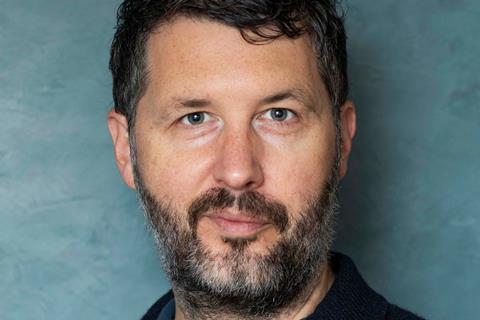 Edward Fletcher, former managing director of UK distributor Thunderbird Releasing, is spearheading an ambitious move into film for Judge Dredd owner Rebellion, which includes the acquisition of distribution servicing company Central City Media.
Fletcher has been named head of film and TV, acquisitions, sales and distribution at the independent UK outfit, which publishes video games, books and comics, and owns the 2000 AD franchise.
Fletcher founded distributor Soda Pictures with Eve Gabereau in 2002 and continued to lead the firm after it was acquired by Canadian company Thunderbird Films in 2014. Fletcher stepped down in August 2019 and the company has since ceased distribution in the UK.
"Rebellion owns a vast wealth of IP, which is partly based on its acquisition of the 2000 AD library" said Fletcher. "But it's not just Judge Dredd. There's a whole series of interesting characters and stories. Rebellion also owns publishing companies and the former IPC Comic Archive, with characters like Roy of the Rovers, so we are now working through that library and working out what has the potential to reboot."
His new appointment marks a growing focus on film and TV for Rebellion, which has spent recent years building its industry presence. Under its Rebellion Productions banner, it is developing projects including comic-book adaptation Rogue Trooper with Duncan Jones and TV series Mega-City One, set in the world of Judge Dredd.
The firm acquired a $100m, 220,000-sq-ft facility in Didcot – 50 miles west of London and close to its Oxford headquarters – in 2018 and has since converted the space into a film studio. It also owns VFX and motion-capture facility Audiomotion, which has worked on titles including Ready Player One.
More recently, Rebellion produced its first in-house feature, School's Out Forever, which is set to receive a digital release on February 15. The post-apocalyptic thriller is based on a book in the Afterblight Chronicles, published by Rebellion's Abaddon Books, and has been written and directed by Oliver Milburn. Rebellion fully funded the £1m feature, which it also produced and will self-distribute.
Fletcher said he is exploring Rebellion's key videogame franchises, including Sniper Elite and Zombie Army, as well as the library of contemporary fiction within publishing labels Abaddon and Solaris. He will also develop and produce projects in-house, as seen with School's Out Forever. "That ability is exciting," said Fletcher. "Anyone in independent production knows projects can take years and many things fail to get made so it's liberating to be involved with a company that can do these things."
Central City Media acquisition

Ahead of the release of School's Out Forever, Rebellion has acquired distribution servicing company Central City Media for an undisclosed sum.
Sophie Wong, who launched the company in 2018 to give independent filmmakers and sales agents an alternative to traditional distribution models, will remain as managing director.
"Rebellion is keen to connect with audiences as directly as possible so buying Central City Media gives us a distribution route to market in keeping with that," said Fletcher. "However, it remains a separate company that we will support to expand with new clients and to make its own acquisitions. On larger IP-driven projects, we'll be looking to collaborate with bigger partners both in production and distribution."
Cinematic universes

Fletcher will work closely with Rebellion CEO Jason Kingsley, who founded the company with brother Chris Kingsley in 1992.
"We've been considering production, sales and distribution for quite some time," said Jason Kingsley. "Having our own experts on the team, like Ed [Fletcher], will help us judge whether something has commercial potential and getting it to market. Rebellion is at the very early stages of becoming a studio. We have the facilities, VFX and IP so feel we're at the beginning of something here."
Kingsley said the firm would initially look to produce one feature per year, most likely focused on "elevated genre" that includes fantasy, action adventure and horror, with budgets under £10m for self-financed features. It will seek to partner with others on larger projects.
Given the wealth of worlds and characters that Rebellion could explore, Kingsley agreed there was potential to create a cinematic universe in the UK, as Marvel have achieved with its crop of superheroes.
"But I think it can be broader than that," he added. "We have multiple cinematic universes. One of the challenges for the creators at Marvel and DC is that their superheroes exist in a parallel version of our world.
"Our back catalogue of stories involves interesting but flawed characters in their own worlds, such as Judge Dredd in Mega City One or Rogue Trooper. There is almost no end to the interesting stories we want to tell."