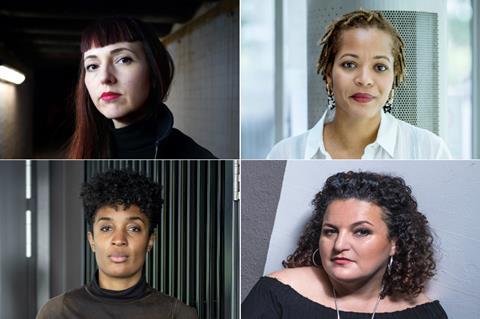 Four Screen UK & Ireland Stars of Tomorrow have been selected as finalists for the Gold Fellowship for Women, an award offered for emerging female filmmakers by the Academy of Motion Picture Arts & Sciences (AMPAS).
Fellowships will be given in two categories: one for the US, and one for international. Six finalists have been selected for the domestic fellowship, with five – including all four former Screen Stars – for the international award.
Among them are producer Farah Abushwesha, a Screen Star in 2017, who is creative director at emerging talent showcase Rocliffe and whose producing credits include Irreplaceable You, The Last Photograph and BBC miniseries The ABC Murders; and Rienkje Attoh-Wood, a 2020 Star, who has produced Shola Amoo's A Moving Image and co-produced BBC series Noughts + Crosses.
Also selected are 2018 Star Prano Bailey-Bond, whose debut feature Censor was released this summer; and Dionne Edwards, a 2019 Star, who shot debut feature Pretty Red Dress this summer.
The fellowship amount is $35,000 for the domestic award, and £20,000 ($26,500) for the international recipient. The fellowship includes mentoring over a one-year period, with mentors yet to be chosen for the 2021 cohort.
The final recipients will be decided in mid-December; the Academy is able to award more than one fellowship in either category, with six awards made across the last three years, including to Northern Irish filmmaker Aislinn Clarke in 2019, and French-Algerian director Mounia Meddour last year.
Academy Gold Fellowships for Women 2021 finalists
International
Rienkje Attoh-Wood, producer
Prano Bailey-Bond, writer-director
Farah Abushwesha, producer
Waad Al-Kateab, writer-director
Dionne Edwards, writer-director
Domestic
Kimberlee Bassford, documentary filmmaker
Vigil Chume, writer-director
Shaina Ghuraya, writer-director
Kelley Kali, writer-director
Amy Tofte, writer
Georden West, writer-director