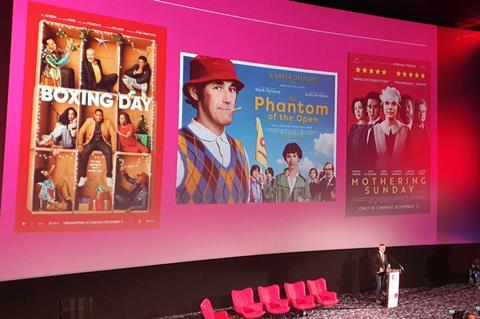 The UK Cinema Association (UKCA) held its first annual conference since March 2020 this week. The event brings together national, regional and ultra-local cinema owners throughout the UK.
This year's event was titled 'The Big Screen Experience: the Next Chapter', and looked at what more the cinema sector might do to re-engage audiences following the COVID-19 pandemic. Attendees included representatives from the Cineworld, Vue and Odeon chains, plus smaller chains including Everyman Cinemas and WTW-Scott Cinemas.
Is the present optimism sustainable?
The international exhibition sector was joyous at CineEurope in Barcelona at the start of month as No Time To Die's UK-Ireland opening weekend figures filtered through. Now at £73.3m from three weeks on release, the James Bond blockbuster is one of the first films to approach pre-pandemic levels of box office. That energy carried through to both delegate conversations, and presentations; as revealed by Gabriel Swartland, regional director and vice president, EMEA at film marketing solutions firm Movio, 7.9% of first post-pandemic cinema visits have come from No Time To Die's first two weeks, with that figure set to rise. This success chimed with UKCA CEO Phil Clapp's opening comments. "The intention is very much to look forward rather than back," said Clapp. "We all know what we've been through, we all know the pain and the suffering everyone's experienced from the last 19 months or so. And while we're absolutely not out of it, we have reason to be optimistic in terms of our future as an industry and our future as a cultural sector."
What is a good example of a Covid-safe event?
News of No Time To Die's first pandemic delay broke in the final hours of the March 2020 event; then, in the words of Clapp, "the sky fell in." Managing the presence of Covid-19 is now proving a balancing act across all sectors of the film chain, with exhibition no exception. On a practical level, the conference requested that all attendees took lateral flow tests before attending on both days, with Clapp revealing that around 12 delegates had dropped out on the first day due to positive tests. As in Barcelona, the event issued green and red wristbands depending on the individual's level of comfort with physical interaction – again, almost all attendees chose a green one. Social distancing was not required in the venue, although an area at the back of the cinema where presentations took place was left for those who wished for more space. Breakfast and lunch on both days were pre-packaged to reduce contact points.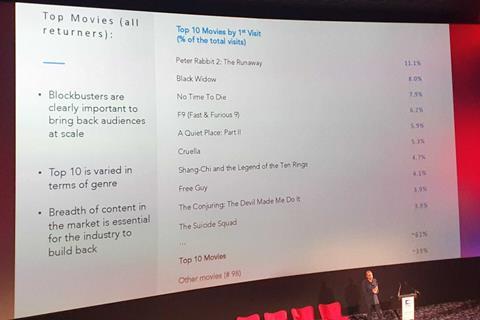 The UKCA has now contacted attendees on Friday afternoon, to note "a number of people" who attended the conference and have since been 'pinged' by the NHS app for having been near a person who has tested positive. It is not aware of anyone who attended the event who has since produced a positive test; however, it recommended "regular lateral flow tests" and following "relevant guidance" all the same.
The importance of commercial UK films
Introducing himself as "operator of a four-screen cinema with a restaurant and bar", BFI CEO Ben Roberts gave the keynote address on the opening day of the UKCA conference, just 36 hours after closing the BFI London Film Festival. With exact figures yet to be released, Roberts said ticket sales at the festival were "very close to pre-pandemic levels", and described the 65th edition as "the most successful edition in recent memory." Roberts also touched on his work alongside new BFI chair and exhibition supremo Tim Richards, calling the Vue Cinemas founder and CEO "an absolute rock" over the past six months.
While highlighting the BFI's plans for the TV, immersive and games sectors over the next decade, Roberts was keen to emphasise the Institute's "unshakeable enthusiasm for the big screen… we really do depend on it." He noted three key lessons from the pandemic period: "the role of cinemas in communities; the importance in broadening programming range and mix; and the need for commercial UK films to support a resilient exhibition sector".
On this third point, Roberts mentioned the appointment of Mia Bays as head of the BFI Film Fund, describing Bays as "very committed to making audience-friendly cinema." Roberts also cautioned against over-reliance on tentpole titles as the industry continues to rebuild, saying "we are vulnerable if we depend too heavily on a limited number of studio productions."
How can cinemas attract back older audiences?
The issue of age categories, and what constitutes a 'younger' and 'older' audience, came up several times across presentations and panels over the two days. In particular focus was the notion that older audiences have been slow to return. Mark Williams, director of mini-chain WTW-Scott Cinemas, acknowledged that older-skewing titles such as Euros Lyn's Dream Horse (released June 4) and Florian Zeller's The Father (June 11) "would have done better pre-pandemic". To try and entice the 50+ age group back, Williams said WTW has tried measures including running morning screenings "as a loss-leader", to reintroduce that group to a safe theatrical experience.
Rob Younger, director of Barnsley's Parkway Cinema and Richmond's Station Cinema, said the "fogging" his venues had introduced between each screening had a supplementary purpose beyond cleaning the room – it reassured attendees that they were in a safe environment. "You can see the disinfectant in the air," said Younger. Both Williams and Younger anticipated that the older audience, which has returned significantly for No Time To Die, will continue to come back for awards season films.
Addressing attendees on the topic of 'The Returning Audience', Lucy Jones, executive director at Comscore Movies, highlighted the "lack of exposure to normal marketing" that audiences have had, both through fewer cinema visits in 2020/21 and in wider life. Jones recommended a three-point marketing plan to rectify this: "explain; act fast; and target". While acknowledging the value of marketing around Covid safety measures, she also cautioned against overdoing it, as people often look to come to the cinema to escape the outside world.