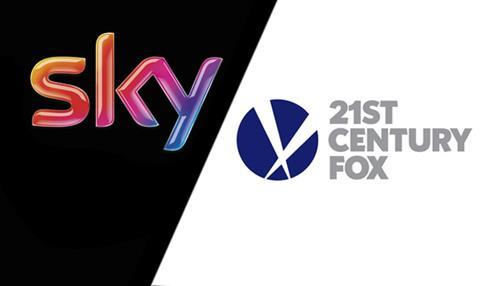 21st Century Fox has increased its bid for the 61% of Sky it does not already own to £14.00 a share.
The bid values the European pay -TV giant at £24.5bn ($32.5 billion) overall and tops the £12.50 a share offer from rival bidder Comcast.
The increased bid, on which Fox said it has reached agreement with the independent committee of Sky's board, comes as the UK government is expected to give its final ruling on the deal.
New UK culture secretary Jeremy Wright said this week he will deliver that decision on Thursday (July 12) as planned, in spite of the fact he has only just been appointed. Previous culture minister Matt Hancock had said he would let the Fox-Sky deal go ahead as long as Fox sold Sky's news channel to Disney and met other conditions.
Fox's original bid to take full control of Sky was made in December 2016 and Comcast made its rival bid in February. The new Fox bid is expected to lead to a bidding war for Sky between Fox and Comcast, which is also competing with Disney to buy Fox assets including the Sky stake.
In a statement on the increased bid, 21st Century Fox (21CF) said: "We strongly believe that a combined 21CF and Sky will be a powerful driver for the continued growth and vibrancy of the UK and broader global creative industries. The enhanced scale and capabilities of the combination will enrich Sky's ability to continue on its mission for years to come, especially at a time of dynamic change in our industry."
"This transformative transaction will position Sky so that it can continue to compete within an environment that now includes some of the largest companies in the world," the statement went on, "but none of whom have demonstrated the same local depth of investment and commitment to the UK and to Europe. We said when we announced our proposed acquisition of Sky that we were firmly committed to UK's creative industries and the contribution they make to the UK economy. We remain committed to the UK and believe that our offer for Sky will bring the best value for all the company's stakeholders."