James Cameron surprised CinemaCon attendees at the end of Thursday morning's Fox presentation to explain that his fantasy universe had become larger than originally expected.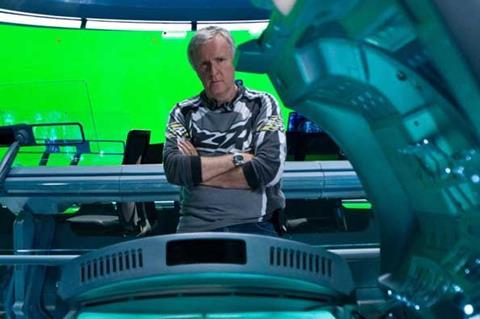 "We have decided to embark on a truly massive cinematic project, making four epic films, each one of which stands alone and together form a complete saga," Cameron declared at the Colosseum in Las Vegas.
Up until now the studio and Cameron, who is busy writing screenplays with four collaborators, had intended to make three sequels to the highest grossing film in history, when unadjusted for inflation. It finished its run on $2.89bn worldwide after opening in December 2009.
Avatar sequel release dates
Cameron announced Avatar 2 is scheduled to open in December 2018, and successive instalments will roll out in Decembers 2020, 2022, and 2023.
The film-maker could not resist the opportunity to state the case for the theatrical experience and became the only film-maker in a studio presentation here so far to refer to Sean Parker and Prem Akkaraju's disruptive distribution proposal by name.
"Regardless of what the folks at Screening Room say, I think it's absolutely essential for movies to be presented exclusively in theatres on their initial release," said Cameron.
A show that ended with perhaps the most ambitious film-maker on the planet began in similarly larger-than-life style.
Vanilla Ice performs 'Ice Age Baby'
Vanilla Ice hopped on stage and gave a buoyant rendition of Ice Age Baby, named after the biggest hit of his career and in reference to the 20th Century Fox Animation and Blue Sky Studios franchise that has generated more than $2.8bn worldwide since 2002.
The fifth instalment, Ice Age: Collision Course, arrives on July 22.
Fox domestic distribution president Chris Aronson appeared in a glittering suit and strutted about with the rapper before recapping the hits of 2015 and announcing that Kingsman: The Golden Circle had begun production. It was reported this week that Channing Tatum is in talks to join the cast.
Enter Fox Filmed Entertainment chairman Jim Gianopulos and 20th Century Fox Co-Chairman, Stacey Snider, who welcome Anna Kendrick, Zac Efron and Adam DeVine to introduce teasers from R-rated July 8 comedy Mike And Dave Need Wedding Dates.
Kendrick reappeared a while later alongside DreamWorks Animation chief Jeffrey Katzenberg to talk up Trolls, which opens on November 4.
A female President of the United States
Jeff Goldblum, Vivica A Fox and Roland Emmerich showed a teaser from Independence Day: Resurgence, which arrives on June 24, some 20 years after the original. Charlotte Gainsbourg, Bill Pullman, and Liam Hemsworth also star. Sela Ward plays a female President of the United States.
Gianopulos announced that work was underway on a Deadpool sequel with Ryan Reynolds, director Tim Miller and the original crew. The R-rated smash Deadpool has amassed $760m worldwide.
Fox Searchlight co-president Steve Gilula and president Nancy Utley introduced The Birth Of A Nation director, writer, producer and star Nate Parker and co-star Aja Naomi King. Their appearance and a trailer went down well with attendees.
Gilula could be allowed a little self-satisfaction when he spoke about the slave revolt drama and awards hopeful that opens on October 7. Searchlight reportedly paid $17.5m in Sundance for worldwide rights and elbowed Netflix out of the way after the streaming giant offered $20m and was prepared to go as high as $25m.
Gianopulos praised New Regency and its $500m-plus global success on The Revenant before cuing up a taped message from Michael Fassbender, on the set of Alien: Covenant in Australia, and a teaser from December 21 release Assassin's Creed.
There was a taped message from Bryan Cranston and James Franco plus a teaser from their comedy Why Him? from Meet The Parents screenwriter John Hamburg. The R-rated comedy arrives on December 25.