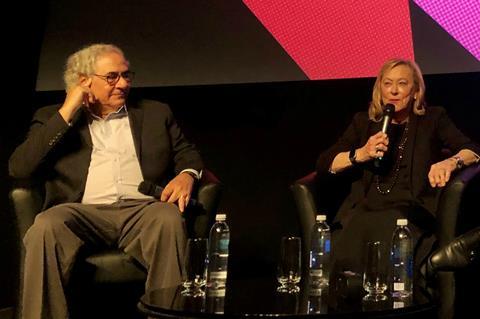 Fox Searchlight Pictures co-chairmen Nancy Utley and Stephen Gilula have revealed how they are weathering the "turbulence" of a changing film landscape and opened up about the Disney takeover of Fox.
Speaking before an audience at the BFI London Film Festival on Friday (October 4), the duo said it was "business as usual" following the $71.3bn takeover of 21st Century Fox by Disney in March.
"There are some procedural changes but the way we work is exactly the same," said Utley. "We're in the same building, we're on the same lot… We've put our heads down, kept doing the work, and no-one has said 'no' to us on anything."
Utley said a "big test" in the new relationship was a screening of Taika Waititi's daring satire Jojo Rabbit to Disney CEO Bob Iger and Walt Disney Studios co-chairmen Alan Horn and Alan Bergman. "I didn't know what they were going to say about our Nazi satire but they really appreciated it and the message it is having, and what we're trying to do, so I don't see any material changes in the way we work."
Gilula, who has led Fox Searchlight alongside Utley for close to 20 years, said: "In some of the press there has been all this concern, but people forget that Disney owned Miramax for many, many years and released all kinds of movies. I think their issue [with Miramax] was not the movies but the management."
Spotlighting Oscar winners including Three Billboards Outside Ebbing, Missouri, The Shape Of Water and The Favourite, Gilula said: "They [Disney] embraced all those movies. So any kind of editorial concerns, they're non-existent. In terms of what we're developing and what we're buying, we're business as usual."
Utley acknowledged that "Fox was not as highly evolved" in terms of streaming and so she was "very grateful to be part of a company, now with Disney, which is very forward-thinking in the streaming space and is building for the future."
This chimes with Searchlight's move into shorts and television production, something that was sparked by a project that potentially could have landed at Fox.
"We had a movie called Wild with Jean-Marc Vallée, Reese Witherspoon, Laura Dern and producer Bruna Papandrea and they all ended up at HBO for their next project, Big Little Lies," said Utley. "We thought, if we'd had a television division, would we have been able to keep them? So we want filmmakers to be able to come to us no matter what they want to create, whether it's a two-minute short or a full-length series, and anything in between."
As for their shorts programme, launched in March 2018, Fox Searchlight has already won an Oscar for Skin, a gang drama directed by Guy Nattiv. "It is enabling us to meet a lot of filmmakers that we didn't know and ask them what they want to do next," added Utley.
In North America, Fox Searchlight still has a long-term deal with HBO so their films will head there for a few more years, said Gilula. But Utley highlighted that the studio's films will be made available on Hulu globally and that it would "make films directly for Hulu" in the future.
Turbulent times
Gilula acknowledged that the changing behaviour of audiences meant Fox Searchlight has had to adapt.
"We're currently in the biggest inflection in our industry since the late 40s when television changed behaviour," he said. "You have the technologies that are changing people's behaviour and how they look at storytelling. So, yes, we've had to change and adapt."
One of the ways the company has adapted is by pivoting toward more in-house production. Fox Searchlight used to be split around 50:50 in terms of acquisitions, mainly from film festivals, and homegrown titles. But the entrance of streaming heavyweights to the market has caused a shift.
"When the streamers came in [to festivals] with these big, seemingly unlimited wallets to spend we thought, 'Oh, this is not good for us,' because if you're in a panic to get material, you're going to overpay. So we pivoted toward much more in-house production… If we own the IP and it's our project, no one can come in and take it away from us, so it gives us much more control over our destiny."
But the effort and cost of going to the movies when there is a slew of new content on streaming services means "the game keeps getting harder and harder," said Utley. "So we just keep trying to find things that are either awards-worthy, have a cast you can't resist, or a concept that you can't resist."
"The pressures and competition are going to create turbulence, as they are now, but I think we'll survive," added Gilula.
Celebrating 25 years
The LFF discussion came as Fox Searchlight is celebrating 25 years in business, during which time its films have taken $5bn at the worldwide box office and won 39 Oscars, including best picture winners Slumdog Millionaire, 12 Years A Slave, Birdman, and The Shape Of Water.
Gilula recalled the "elegant" initial vision which was that Fox Searchlight was "allowed complete autonomy" without studio interference. The proof of concept was their 12th film, The Full Monty, which made $258m worldwide in 1997 – the biggest independent film at that time for many years.
"It was a proof of concept that we can make a film at a very modest price and take it to the world, and what starts as a small idea can blow up," said Gilula. "We've had a number of successes that way, so that has been an incredible gift to us… We've had great good fortune and we don't take it for granted that we've had that level of independence throughout all the different management changes."
Highlighting that filmmakers often return to work with them, Utley said they will be making new movies with Guillermo del Toro, Scott Cooper, Wes Anderson and Taika Waititi.
Fox Searchlight has three titles at this year's BFI London Film Festival: Armando Iannucci's The Personal History Of David Copperfield; Taika Waititi's Jojo Rabbit; and Terrence Malick's A Hidden Life.