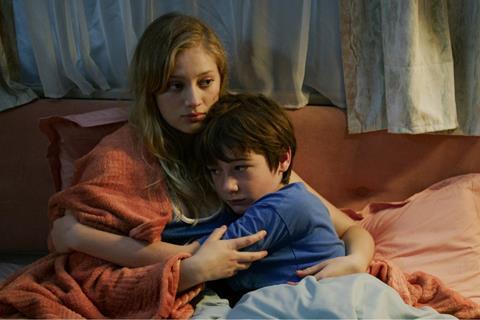 France tv distribution has boarded sales on French director Fabienne Berthaud's upcoming social drama Little Man Tom and Sylvie Audcoeur's psychological thriller An Ordinary Mother, starring Karin Viard.
The film and TV sales division of French state broadcaster will introduce both titles to the market at the upcoming EFM (March 1-5).
Little Man Tom is the fifth feature of writer and director Berthaud and follows her 2019 Mongolia-set drama A Bigger World.
It is adapted from the 2017 novel by Barbara Constantine about an 11-year-old boy who lives in a mobile home on the edge of the woods with his mother, who gets by doing odd jobs. When a young man fresh out of prison breaks into their home, their fragile equilibrium is disrupted.
Rising French actress Nadia Tereszkiewicz, whose credits include Only The Animals and drama series Possessions, plays the young mother, opposite Sauvage star Félix Maritaud.
Produced by Paris-based Rhamsa Productions and Move Movie, it is currently in post-production. Haut et Court has taken French rights for a release this year.
"We expect it to make its debut on the festival circuit this year," says Julia Schulte, head of sales at France tv distribution.
An Ordinary Mother is the directorial feature debut of actress and writer Audcoeur.
Viard, who has a growing number of thriller credits on her filmography including Appearances and Perfect Nanny, will play a woman who has never gotten closure on the killing of her 17-year-old son in a street fight.
When the young man who committed the crime crosses her path on his release from prison five years later, she comes up with a plan to poison him to avenge her son's death. To execute the plan, she hires him to do some plumbing work at her childhood home in the country. As she gets to know the young man better her resolve wavers.
Darren Muselet co-stars as the young man in a cast also featuring Samir Guesmi.
It is produced by Delphine Schmit at Tripode Productions and Édouard de Vésinne at Incognita Films. Memento Distribution has taken French rights. The film began shooting on February 15 and will be ready for a 2022 release.