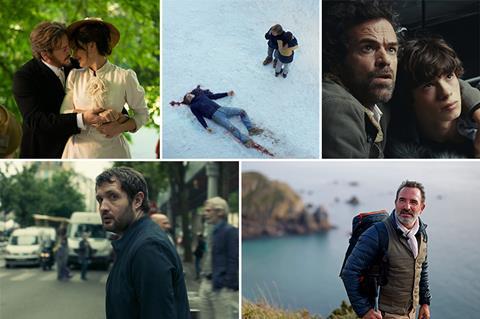 Justine Triet's Palme d'Or-winning Anatomy Of A Fall and The Taste Of Things by Cannes' best director winner Tran Anh Hung have been shortlisted to be France's entry to the international Oscar category, along with Clement Cogitore's Sons Of Ramses, Thomas Cailley's The Animal Kingdom and Denis Imbert's On The Wandering Paths (Sur Les Chemins Noirs).
The five films were selected by a seven-member committee comprised of the US producer of Coda, Patrick Wachsberger, composer Alexandre Desplat, producer Charles Gillibert of CG Cinema and Les Films du Losange, directors Olivier Assayas and Mounia Meddour, sales executive Sabine Chemaly, formerly EVP international diistribution at Newen, and former head of international sales at Memento Films International Tanja Meissner, all appointed by France's cultural minister Rima Abdul-Malak.
As part of a recently revamped process, CNC president Dominique Boutonnat and just-appointed Unifrance president Gilles Pelisson participated as non-voting observers and Cannes' Thierry Fremaux was ousted from the selection committee entirely.
The overhaul was triggered after industry criticism in 2021 when France opted to submit Julia Ducournau's Palme d'Or-winning Titane instead of Audrey Diwan's Golden Lion-winning Happening. A French film has not won this category for 30 years, since Regis Wargnier's Indochine picked up the trophy in 1993. In the last 10 years, only four have been shortlisted, and only two, Deniz Gamze Erguven's Turkish-language Mustang in 2015 and Ladj Ly's Les Misérables in 2019, went on to be nominated.
Last year's submission was Alice Diop's Saint Omer which made the shortlist of 15 but was not nominated.
France has won the category nine times, second only to Italy's 11 wins.
The next step is a committee meeting on September 21 where members will meet with the producers, sales companies and US distributors of each film, where one is in place.
Anatomy Of A Fall has gone on to become a commercial success at the French box office since Triet's fiery Cannes acceptance speech. The courtroom drama about a woman, played by Sandra Huller, accused of killing her husband in a remote cabin, has posted admissions of upwards of 608,000 tickets, grossing approximately €4.5m since its August 23 release by Le Pacte. MK2 is handling international sales and Neon has North American rights. The film screened at Telluride and will play at the upcoming New York Film Festival (NYFF).
Academy rules maintain a film must include at least 50% of dialogue in a language other than English to be eligible in the category and Neon confirmed to Screen that Anatomy is 59% in French.
The Taste Of Things, formerly titled The Pot-Au-Feu, was snapped up by IFC and Sapan Studio at Cannes No US release date has yet been confirmed. The food-filled romance starring Juliette Binoche and Benoit Magimel, whose original French title is La Passion De Dodin Bouffant, also screened at both Telluride and NYFF. Gaumont is handling international sales and will release the film in France on November 8.
Magnet Releasing, Magnolia Pictures' genre arm, has US rights to he Animal Kingdom (La Règne Animal), which debuted in Un Certain Regard. The psychological thriller stars Romain Duris and Paul Kircher alongside Adele Exarchopoulos in a father-son story set in a world where mutations in human genetics cause people to transform into hybrid creatures. It is the director's second feature, produced by Nord-Ouest Films and financed and co-produced by Studiocanal which is handling international distribution.
Sons Of Ramses, starring Karim Leklou, premiered in Cannes Critics Week. MK2 is selling the Paris-set supernatural thriller.
On The Wandering Paths stars Oscar-winning Jean Dujardin as a celebrated writer hiking across France. Produced by Radar Films, Newen Connect is handling international sales.
A US distributor is not attached to the latter two as of September 13.
Notably absent from the list is Maiwenn's Cannes opener Jeanne du Barry that had been rumoured to be a strong contender for the shortlist.