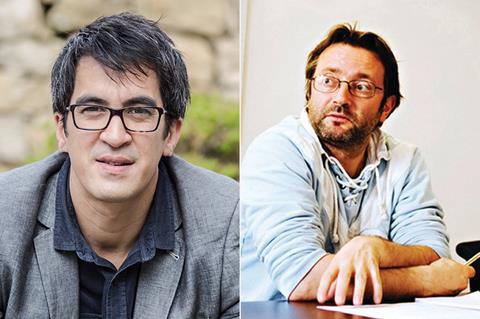 Bac Films and Wild Bunch International (WBI) have announced a new partnership under which the two companies will collaborate on sales and some acquisitions.
Under the collaboration, WBI head of sales Eva Diederix and her team will handle international sales on all Bac Film acquisitions from now on. Bac will look after the back office and both companies will cooperate on marketing.
As part of the operation, Bac Films CEO David Grumbach has wound down its in-house international sales team. The company will now focus on film finance and acquisition and its long-running distribution activities.
Bac's head of acquisitions Alexis Hofmann remains in place and will continue to handle acquisitions for the company although there is scope for the companies to co-acquire titles in the future.
"We will continue to acquire films and oversee aspects of festival strategy in close collaboration with Eva and her team. We'll work together," said Grumbach.
In the longer term, Bac Films and WBI are mulling further production and financing partnerships to be announced later on in the year.
The new partnership was unveiled on the eve of Unifrance Rendez-Vous in Paris (January 11-17), where WBI will start work on the first round of Bac Films.
These include Canadian actress and filmmaker Monia Chokri's #MeToo-era comedy drama Babysitter, which is selected for the Midnight section of the Sundance Film Festival.
Bac Films is due to release the film in France on April 27. It is also due to handle the theatrical release of a number of WBI sales titles including Rebel by Belgian directing duo Adil El Arbi and Bilall Fallah. This will be on a film by film basis.

Grumbach has been CEO of Bac Films since 2013 when he led the acquisition of the company by a consortium of European investors.
Prior to this role, the French-born film exec worked in Luxembourg where he grew his expertise in film financing and co-productions, working on complex co-productions like Ari Folman's live-action animation hybrid The Congress.
He brought this film finance experience to bear at Bac Films, which previously focused mainly on distribution and international sales.
WBI co-founder and co-head Vincent Maraval said the new partnership made sense on a number of levels in a period of rapid change for traditional sales and distribution structures.
"We need to adapt our structures to future challenges and joining forces looks like the best and smartest solution to keep a strong market position," he said.
"We've been talking to David for a long time about films, the market and how to structure things in the current climate. This is an association that makes sense for us. We've always liked to share, co-acquire and co-finance, and this is what we're doing here in a more official, structured manner.
Maraval and long-term business partner Brahim Chioua launched Wild Bunch International (WBI) in 2019, as a standalone, independent spin-off of the international sales department of the Wild Bunch Group.