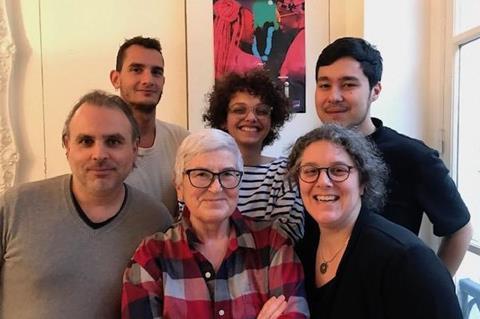 Paris-based arthouse sales outfit MPM Premium is widening the scope of its slate with the arrival of a new sales team and the launch of a specialist auteur label, bannered New Visions.
The move follows the recent appointment of Quentin Worthington as head of sales and acquisitions and Natsuki Lambert as head of festivals.
MPM Premium was co-founded in 2018 by Marie-Pierre Macia and Claire Gadéa at production company MPM Film and Jean-Charles Mille at shorts-focused agency Premium Films to pool their international sales efforts around feature films.
Up until now its slate has reflected the auteur fare championed by its respective co-founders, with recent titles including 1970s electronica scene drama Le Choc Du Futur, which gets its US premiere at SXSW in March, comedy-drama Strange Birds, Kenyan LGBT drama Rafiki, which premiered in Cannes Un Certain Regard and Nigerian Oscar submission Lionheart, which was acquired by Netflix
"We're not going to stop focusing on auteur work. It's in our DNA as a production company and at the heart of what we do. The aim is to handle more auteur films with larger audience appeal while still remaining faithful to first films and more experimental work," said Macia.
"We'd already started moving in this direction on titles like Le Choc Du Futur," she added, noting that the film had sold to a handful of European territories including to the UK (606 Distribution), Sweden (Njuta Films), France (Premium Films) and Spain (Filmin).
New auteur label
As part of the move, MPM Premium is launching the New Visions auteur label within its overall slate to create a space for emerging talent.
Under the new set-up, Worthington, who previously worked at digital distribution specialist Under The Milky Way and sales company WTFilms, will oversee MPM Premium's overall strategy.
Lambert will be responsible for the festival strategy as well as the New Visions label, scouting and looking after talent. In another recent hire for parent company MPM Film, Naomie Lagadec has recently joined Macia's team as a production assistant.
Worthington said his goal was to acquire world sale rights to 10 to 12 titles a year.
"They'll be divided between films with larger audience appeal and commercial and theatrical sales potential and films by new talents with a fresh cinematic eye, which come under the New Visions banner," he explained.
He added that the company was open to working with the whole distribution chain from theatrical distributors to platforms.
The first acquisition under the New Visions label is Iraqi-Italian filmmaker Haider Rashid's Europa, which the company acquired after it was presented at the Cairo International Film Festival's Work in Progress industry event at the end of November.
It is Rashid's third feature after Tangled Up In Blue and It's About To Train. It revolves around a young Iraqi man who comes up against vigilante migrant hunters on Turkey's border with Bulgaria when he tries to cross illegally into mainland Europe.
The new team will launch pre-sales on the title at EFM.
It has also recently added two Brazilian Berlinale Panorama titles to its EFM slate: Matias Mariani's Shine Your Eyes and Karim Aïnouz's documentary Nardjes A.
A debut fiction feature for producer and director Mariani, Shine Your Eyes follows a musician from Lagos who heads to Brazil on a mission to find his missing brother and bring him back home.
Aïnouz's documentary captures the early days of Algeria's ongoing popular uprising – which began last February – through a day in the life of a young female activist. Aïnouz, whose drama The Invisible Life Of Euridice Gusmão won Cannes Un Certain Regard last year, talked to Screen in depth about the work when it was showcased at the Final Cut in Venice post-production workshop at the Venice Film Festival last September.
Macia produced the film with Richard Djoudi of Algiers-based Show Guest Entertainment and Christopher Zitterbart of Berlin-based Watchmen Productions.
"It's one of the first documentaries about the revolution to be released although a number are in the works," commented Worthington.