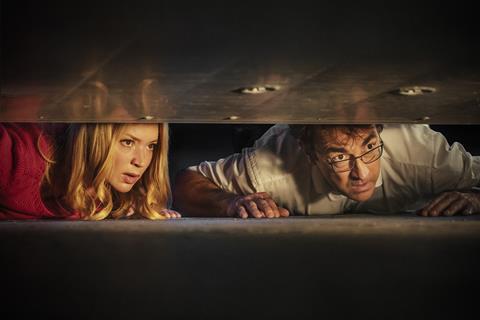 More than 300,000 spectators hit French cinemas as they reopened on Wednesday (May 19) after six months of closure due to the Covid-19 pandemic, according to preliminary figures from the country's National Federation of French Cinemas (FNCF).
This is triple the average number of spectators seen on a usual Wednesday, which is the day new films open in France.
"We can confirm with certainty that the attendance was between 305,000 to 310,000 admissions," FNCF president Richard Patry said in an interview with news channel BFMTV.
All of France's 2,045 cinemas, which count some 6,000 screens between them, reopened on Wednesday.
Some 30 titles were either re-released or launched in cinemas on Wednesday, kicking off a busy few months for distributors as they race to clear a backlog of 450 films before a raft of new titles arrives.
Preliminary figures suggest that Albert Dupontel's Cesar-winning comedy-drama Bye Bye Morons topped the day one box office with 62,929 spectators at 854 sites for an approximate gross of $510,000 (€418,320) for Gaumont.
This was more than its original opening day on October 21, 2020, when it hit screens just 10 days before French cinemas were ordered to close as part of measures to rein in a second wave of Covid-19 in France.
Back then, it grossed around $4.7m from 600,444 admissions in its first week on release, in spite of a 9pm-6am curfew in place at the time.
Wednesday's performance was also more than the single-day gross of $321,700 (£226,840) for Sony's Peter Rabbit 2: The Runaway which topped the UK box office as cinemas reopened in the UK on Monday (May 17).
A surprise breakout was Japanese feature animation Demon Slayer The Movie: Mugen Train, which drew 52,000 spectators for a gross of $421,300 for CRG Events to rank second in the day one box office.
Warner Bros France's feature animation Tom & Jerry, the only new release by a US studio, is expected to be the third biggest day one performer with 34,388 spectators for a gross of $278,800.
At the mk2 Bibliothèque complex in Paris, spectators queued around the block for its morning programme which kicked for at 8am with a screening of Quentin Dupieux's Venice hit Mandibules in the presence of the director and cast members. Released by Memento Film Distribution, the film drew 22,140 spectators on its first day for a gross of $179,400.
Other high-performing new releases included Christophe Barratier's drama Fly Me Away which drew 20,699 spectators for a gross of $167,800 for Pathé.
*As France reports box office in admissions, Screen has reached the dollar gross by multiplying the number of admissions by the 2019 average ticket price, according to the CNC, of €6.64.