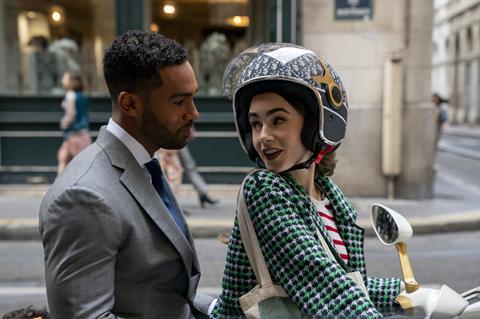 The French industry is cautiously optimistic that the WGA and SAG-AFTRA strikes will not materially affect the amount of inward investment from US studio and streamer productions into the country. So far, only a handful of studio projects shooting in France have been delayed by the strikes.
However, if the strikes linger long into the autumn, there are concerns that they could upset plans for major US productions, particularly as Paris gears up to host the 2024 Olympics.
Among the first major casualties of the WGA strikes was Emily In Paris whose fourth season was meant to kick off in late summer or early autumn, but has already been pushed to the end of the year.
The Walking Dead spinoff The Walking Dead: Daryl Dixon began shooting its second season in Paris ahead of the strikes, but production tells Screen the show still has a few more episodes to shoot. They are currently set to begin at the end of August or early September, which will likely have to shift should the strikes not be resolved in time. The series' first season is currently slated to premiere September 10 on AMC and AMC+.
Amy Sherman-Palladino and Dan Palladino's Paris-NY set ballet drama Etoile for Amazon Studios has also been postponed amidst the WGA strikes as the Palladino duo are writers in addition to directors and executive producers on the project. The production's postponement has already forced lead actress Camille Cottin to pull out due to her in-demand schedule.
Emily In Paris, The Walking Dead: Daryl Dixon and Etoile's on-the-ground French producer Raphael Benoliel of Firstep told Screen that he is planning as if the projects will kick off as planned in the autumn.
However, Benoliel said that it will be "problematic" if the strike lasts for six months and projects can't be completed before the Olympics.
For projects shooting in Paris, prolonged postponements won't be possible since much of 2024 will be monopolised by the upcoming Olympic Games (July 26-August 11) that will see the city essentially shut down for production from June-September, with certain areas unavailable starting in March (see below for more details).
In the meantime, Benoliel added: "It's complicated, because there are French projects that are continuing so we can't keep film talent and crews on hold indefinitely – they want to work on other projects."
Keeping up momentum
Provence Studios, located in Martigues in the South of France, said it has several major US-led projects that have been placed on stand-by due to the strikes. The 22-acre location has adapted to the situation by hosting French productions instead through the summer. However, US studio productions currently represent around 50% of the production volume at the studio so, should the strikes linger, it would be a blow to their bottom line.
The studios' founder and president Olivier Marchetti told Screen: "We're being vigilant, but the American market is very important for us so we're waiting for decisions to be made about how to move forward."
Starz' series The Serpent Queen, for example, has been shooting its second season at Provence Studios and went on through the WGA strike since it had already been scripted before shooting began. However, the show's leading actress Samantha Morton, who plays the key role of Catherine de Medici in the series, is a SAG-AFTRA member and the production has just one week left to shoot.
"We'll wrap on time, but we'll owe a few days when the strike is over," executive producer John Bernard of Jake Productions confirmed to Screen, adding: "We're just carrying on with a different set of requirements around us."
Bernard, a go-to producer for major international productions from US studios for decades, said that on The Serpent Queen and any other projects affected by the strikes, "Our position is very simple. We are continuing to shoot. We're filmmakers: we get given a new set of problems and we find ways of making things work.
Bernard said that, despite widespread industry shutdown, on site in France, it is business as usual for the time being. "Among the five projects I'm working on now, three are continuing on schedule," he said. Plus, international productions in France aren't all US shoots: "Not everything shooting in France is involved with America – there's a lot of British television, and none of it has to do with SAG-AFTRA and the WGA."

John Woo has been in Paris to shoot his own remake of The Killer for Universal starring Omar Sy and Nathalie Emmanuel set to premiere on Peacock. The crime action thriller is continuing without actors for now and pushing on with exteriors and physical stunt scenes.
According to Bernard, "We're continuing to shoot on schedule and will come back when the strike ends owing more days with actors." Bernard also worked on Apple's massive France-based projects Franklin starring Michael Douglas and WWII-set fashion thriller The New Look, both of which wrapped at the end of last year. The New Look is in post, so any further ADR work could cause delays, but the French shoot is long completed.


Thomas Napper's 19th-century champagne drama The Widow Clicquot wrapped in July just as the strikes got underway. Produced by Christina Weiss Lurie and the film's star Hayley Bennet with executive producers Bernard and Joe Wright, the independently financed project is sold by WME Independent.
Navigating the Paris Olympics
The fact that France is hosting the Olympic Games next year is proving something of a headache for the local film and TV industry.
The Games will take place around Paris and the surrounding areas of Yvelines, Hauts-de-Seine, Seine-et-Marne and Seine-Saint-Denis, where the Olympic Village will be located.
Seine-Saint-Denis is also home to the Studios de Paris where major productions like Emily In Paris and Murder Mystery 2 have shot, but it will be closed to productions from June-October of next year, so any productions will have to be completely wrapped by that time and, in many areas close to the Olympic Village, by March.
The Chateau de Versailles, a popular shooting location for foreign productions, will also be closed to filming throughout the summer. However, says Bernard, "Paris will be a challenge, but it's not closed."
CNC-run Film France says that "standard" projects can shoot between March and June and in September and October, and has identified nearly two dozen locations within the region that resemble Paris for Eiffel Tower views or other French cities like Amiens, Bordeaux, La Rochelle, Lille, Lyon, Montpellier, Reims, Rennes or Toulon which offer Haussmannian buildings and Parisian-style streets, cafés or markets for a postcard picture of the City of Light without the Olympic-sized hassle or budget.
TSF Studios, meanwhile, is building a backlot in Coulommiers at a former aerodrome that will include more than 700 metres of Parisian-style streets ready for shooting.
Not only do foreign productions need approval to film in and park in Paris, but finding lodging for film crews and talent will also become harder as the months leading up to the Games approach.
Adding to the hurdles is the fact that France will also be hosting the Rugby World Cup in September and October this year in 10 host cities with the opening and final matches played in the Stade de France, just north of Paris. While it won't completely shut down production like the Olympics, Bernard said "We're still having to jump around the World Cup in September and it will be more challenging to shoot in some places." He added: "It's a good rehearsal for the Olympics."