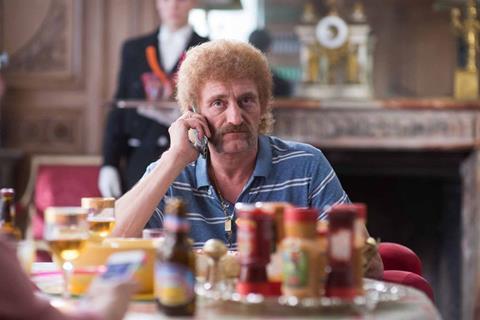 A heatwave and World Cup fever, as the French team secured its place in the semi-finals of the World Cup, taking place in Russia throughout June and July, have dented France's box office for the first half of 2018.
Preliminary figures released by the CNC on July 6 showed admissions were down 1.9% for first six months of the year, coming in at 103m entries against 105m in the same period for 2017. On a sliding year basis, admissions for the 12-month period to end-June stood at 207.4m against 211m for the period in the previous year, representing a 1.8% drop.
Top titles
There were few surprises in terms of the films topping the six-month box office chart. As has been the case for the last few box office seasons now, the 10 most popular releases are a mix of local comedy franchises and Hollywood blockbuster titles. Olivier Baroux's Les Tuche 3, the third instalment of Pathé's popular Les Tuche rags-to-riches comedy – about the adventures of an unsophisticated family which wins millions in the lottery – tops the 2018 chart with 5.7m spectators. It has beaten Les Tuche 2, which generated 4.6m admissions, and the original film, Les Tuche, which racked up some 1.5m entries.
Popular actor-director Dany Boon's latest comedy vehicle La Ch'tite Family, about a celebrity architect forced to confront his lowly northern French roots, lies in second place with 5.6m admissions. Boon also secured the second place in 2017 with his cop duo comedy Raid: Special Unit which drew 4.6m spectators.
Further French films in the top 10 include EuropaCorp's reboot production Taxi 5, in which the original team of Samy Naceri and Frédéric Diefenthal has been replaced by rising comic actors Malik Bentalha and Franck Gastambide. The new co-pilots have yet to pull ahead of their predecessors, drawing 3.6m spectators to date, against 4.6m for Taxi 4, 6m for Taxi 3, 10.3m for Taxi 2 and 6.5m for Taxi.
In its July 6 report, the CNC said the French share of the market stood at an estimated 41.7% for the first six months of 2018, against 36.2% in 2017. Non-French hits included Avengers: Infinity War in third place with 5m spectators, Black Panther, in fifth place with 3.6 admissions, followed by Jurassic World: Fallen Kingdom. These top slots are likely to change in the coming months with a number of high-profile productions due to hit French screens in the second half of the year, including homegrown animation Asterix – The Secret Of The Magic Potion and potential crowdpleasers Mission: Impossible – Fallout and Mamma Mia! Here We Go Again.
No breakout independent arthouse titles have made it into to the upper echelons of the box office so far. But notable releases from the international festival circuit to date include Asghar Farhadi's Spanish-language Cannes opener Everybody Knows, which has racked up some 752,000 entries, against 272,000 for the director's The Salesman and 965,466 for The Past and 976,191 for A Separation. Xavier Legrand's Venice Silver Lion winner Custody also drew a respectable 377,788 for distributor Haut et Court.
Summer and football
Until June, the French box office had been slightly firmer but the World Cup and accompanying heatwave – in which temperatures have soared above 30C in the capital of Paris and 35C in southern France – have kept spectators away from cinemas. The CNC reported admissions were 15.6% lower in June, coming in at 9.8m against last June when 11.7m spectators went to the cinema.
These softer numbers are likely to continue into July. The French National Cinema Federation (FNCF) reported the 34th edition of its La Fete du Cinéma, an annual four-day event offering cut-price tickets from July 1-4, had registered a 16% fall in participation against last year. "After a 30% drop in spectators on Monday, July 2 and Tuesday, July 3, Wednesday, July 4 saw a 28% rise, thanks in part to a renewal of the offering and the success of new films, in particular to Incredibles 2," the body said in a statement. "The high temperatures combined with a busy news cycle, linked principally to the World Cup, explains these results," it continued.
In the backdrop, the French football matches have been registering record TV audiences for local broadcasters. France's victory against Uruguay on Friday (July 6) secured commercial, free-to-air channel TF1 its biggest audience of 2018. According to figures released by audience monitoring company Médiamétrie, 12.9m people watched the match, which aired 16.00 to 18.00 locally, representing 76% of the viewing public. The overall record for a World Cup audience in France stands at 22.2m viewers for the semi-final match between the French team and Portugal in 2006.
With France gearing-up for another semi-final knock-out contest against Belgium on Tuesday (July 10) at 20.00 locally and temperatures remaining high, French cinemas are likely to remain quiet for at least another 48 hours.