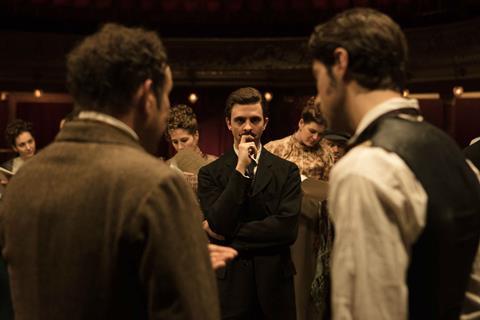 Gaumont is launching world sales on director Alexis Michalik's big screen adaptation of his stage hit Edmond, revolving around the writing of the world famous play Cyrano de Bergerac by Edmond Rostand in 1897.
It marks the feature directorial debut of theatre director and playwright Michalik, whose award-winning play won five prestigious Moliére Awards and is currently enjoying a record-breaking run at the Théatre du Palais-Royal in Paris.
Set against the vibrant backdrop of Belle Epoque Paris, Thomas Solivérès stars as Edmond Rostand, a young playwright of potential genius, reeling from a series of flops.
Celebrity actress Sarah Bernhardt who is an admirer of his work connects him to Constant Coquelin, one of the most actors of the period, who demands the young dramatist write him a leading role in a play to premiere in three weeks.
Edmond has no idea what he is going to write but he does have a title, Cyrano de Bergerac.
Solivérès, who was recently played Spirou in comic strip adaptation Spirou & Fantasio's Big Adventures, is flanked by an impressive ensemble cast also featuring Olivier Gourmet as Coquelin, Mathilde Seigner, and Tom Leeb.
Illan Goldman's Legende is producing the $12 million work.
"It's entertaining, funny and romantic," says Gaumont's head of international production and distribution Cécile Gaget. "Imagine Shakespeare In Love meets Cyrano de Bergerac."
Gaumont, which has taken French rights for a 2019 release, is banking on the perennial popularity of Rostand's 1897 work Cyrano de Bergerac, which still plays in theatres around the world to this day, will boost interest in the feature.
The company will unveil first footage for Edmond at a promo screening on Thursday also premiering first images from A Man In A Hurry starring Fabrice Lucchini as a high-profile business left unable to communicate after a stroke opposite Leila Bekhti as his speech therapist.
Gaget reports A Man In A Hurry has already achieved good pre-sales on the script alone, selling to Spain (Vertigo), Italy (Bim), Benelux (Cineart), Switzerland (JMH), Portugal (Films 4 You), Israel (Shoval), Poland (Kinoswiat) and Canada (AZ).