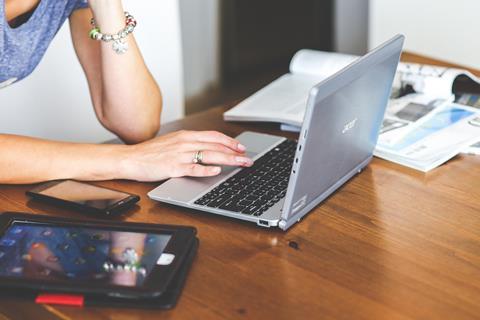 A new report has revealed the under-representation of female writers in the UK film and TV industry.
The study by the Writers' Guild of Great Britain (WGGB) shows only 16% of the 3,310 writers with at least one credit on a UK feature film were female between 2005-2016.
Only 11% of films in the 10-year period were predominantly female-written, with the figure dropping to 7% for films with a budget of more than £10m.
The figures also reveal there has been little progress over the last decade. In 2006, 21% of UK feature films had at least one female writer. In 2016 it was 22%.
WGGB, the trade union representing professional writers, spoke to 200 female writers for the report. Only 5% agreed "the way writers are hired, and scripts are commissioned, is fair and free from discrimination".
Some 42% of respondents said discrimination, of some form, had a negative impact on their own career progression and 53% said they had seen evidence of discrimination.
The report says "unconscious bias among hirers, lack of formal or open hiring systems, inadequate equality data collection and ineffective regulatory systems" play a part in this gender bias.
Following the research, the WGGB has launched the 'Equality Writes' campaign to combat discrimination against women screenwriters, BAME writers, LGBT+ writers, writers with disabilities and working-class writers. They are calling for public funders to pledge a 50/50 split between male and female-written films by 2020.
WGGB president and Bafta-nominated writer Olivia Hetreed (Girl With A Pearl Earring) said: "Female-written films are more successful and more popular than average, but the new research explains why market forces don't operate in the face of the risky financing and old-fashioned hiring practices of UK film-making.
"Faced with such clear evidence we expect that commissioners, especially public funders, will work much harder to give equal opportunities to women and other under- represented writers, who in turn will produce work reflecting all our hopes, fears and aspirations."
The study shows that predominantly female-written films had higher average UK box office revenue than films written predominantly by men, in five of six of the study's budget bands.
The biggest difference was for 'mid-budget films' (£2m - £5m), with titles in this band written by women making on average 27% more at the UK box office during 2005-2016.
Screen's sister site Broadcast has assessed the report's research into the TV industry.