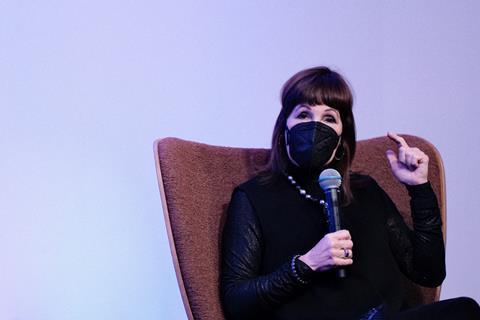 Renowned US producer Gale Anne Hurd, whose credits include The Terminator, Aliens, Armageddon and TV series The Walking Dead has expressed concerns over the influence of artificial intelligence in the creative industries, suggesting "generative AI is designed to put us out of business."
"All of us who are in [creative] fields – whether it's gaming, film, any kind of entertainment – all of our work is being scraped to create generative AI without our permission, without our compensation, that is intended to put us out of business," said Hurd.
This is a secondary issue to what she sees as "the greater concern… creating a divide in the world."
"We've already seen so many ChatGPTs immediately become racist, misogynistic, and it's truly frightening," said Hurd, who was critical of the owners of artificial intelligence programmes.
"They seem to be rather amoral," said the producer. "They believe they're above the law, and they don't seem to care what happens to anybody else. They would be perfectly happy to engage 'barons and serfs'. It's not necessarily about the robots; yes, we have to be worried about AI, but at the end of the day it's the goals of the people who are designing the apps."
Hurd was speaking in conversation with producer Sten-Kristian Saluveer at the closing of the Industry Innovation Forum on Friday, November 17 as part of Industry@Tallinn & Baltic Event, the industry platform of Tallinn Black Nights Film Festival (POFF).
As a producer of blockbuster hits Hurd said she has been cheered by the changing definition of an 'event film' this year. "If you thought 10 years ago, would two of the most successful films of the year be Barbie and Oppenheimer, everyone would have said no," said the producer. "Kids will go see Barbie, and not very many people will go see Oppenheimer. One thing I've learned is pundits are often wrong." As for the balance between streaming and theatrical release models, Hurd said "We have seen very successful films that premiered in theatres and simultaneously on streaming. But I believe at this point, that's not the norm." She cited a working group she has joined of producers, distributors and independent cinema owners in the US. "We're trying to come up with a paradigm that enables independent filmmakers to get their films seen in theatres, and cinemas – independent cinemas especially – to stay in business."
Union support
Addressing the impact of this year's WGA and SAG-AFTRA strikes, Hurd noted a rise in union support across the US, motivated by an awareness of inequality in the creative sector. "When the statistics came out during the strike, the amount of money that the writers were asking for over the course of their contract was about the same, if not less than the combined yearly salaries of five CEOs," said Hurd. "That made the average person think, 'what they're asking for is not crazy'."
The producer suggested CEOs will not change their mindset due to their publicly-owned status and having to answer to a board to maximise profits. "Maximising profits means keeping wages low. It leads to really difficult conditions, people working long hours, far longer than someone should be working, and driving home and getting into a car accident because they've just been working 19 hours. So the safety regulations are incredibly important, in addition to work hours, conditions and wages."
Hurd also said the progress of the #MeToo movement has slowed in the last couple of years, due to corporations removing the staff members hired to handle such topics. "Those people have all been fired within the last couple of years," said Hurd. "The fight is currently on hold. I'm hopeful that within the unions and the guilds themselves, they will continue to push."
The US producer gave two talks as part of the POFF industry programme, with the festival closing yesterday (Sunday, November 19).