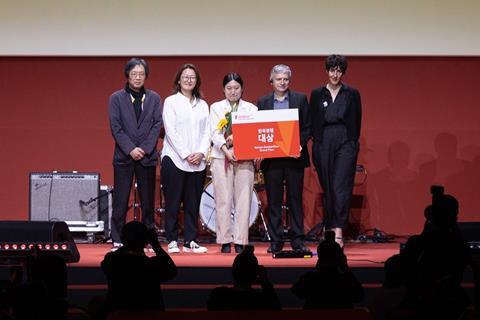 Canadian documentary Geographies Of Solitude and Korean drama Jeong-sun were awarded the top prizes at South Korea's Jeonju International Film Festival on Wednesday (May 4).
At the 23rd edition of the festival, which returned as a fully-fledged physical event for the first time since 2019, Jacquelyn Mill's Geographies Of Solitude received the grand prize in the international competition and a KW20m ($15,800) cash prize.
A jury comprising director Chang, critic Joo Jin-sook, actress Park Haseon, curator Andrei Tanasescu and director Clarisa Navas unanimously decided on the nature documentary because they were impressed by the film's "ideological centeredness that destroys devices where you could feel the dominate gaze."
Geographies Of Solitude follows a botanist who catalogues the flora and fauna of a remote island in the Atlantic and received its world premiere at the Berlinale in February, where it won the CICAE award, Caligari film award and the Forum section's Ecumenical jury prize.
In the parallel Korean Competition, Jeong Ji-hye's Jeong-sun received the grand prize and KW15m ($11,870). The drama centres on a factory worker, played by Kim Geumsoon, whose quiet life is rocked when a private video is widely shared.
The jury of producer Jenna Ku, San Sebastian programmer Roberto Cueto and Villa Medici artistic director Lili Hinstin lauded the film for its "excellent acting, expressing the power of quietness in a calm yet intense manner, and the excellent and sophisticated directing, capturing the cinematic moments in the quotidian life and society."
During the ceremony, held at the festival's Jeonju Dome, best picture and KW10m ($7,900) was awarded to Cyril Schaublin's Unrest while the special jury prize was split between Hyuga Fumiari's Tokyo Kurds and Anais Taracena's The Silence of the Mole.
Kim Jung-eun's Mother And Daughter picked up Watcha's Pick: Feature, which comes with KW10m ($7,900) and one of the two CGV Arthouse Award Distribution Support Prizes, which come with the same. The other CGV Arthouse Award went to Lee Ji-eun's The Hill of Secrets.
A special mention went to Lee Wanmin's Archaeology Of Love, which also picked up one of the two best actor awards, for Ok Ja-yeon. The other went to veteran actress Oh Mine for Kim Jinhwa's Missing Yoon, who said it was her first starring role since her debut 23 years ago in Whispering Corridors and read out the names of all her co-stars to give them encouragement never to lose hope.
In-person return
Jeonju festival director Lee Joon-dong told Screen: "We're the first film festival [in Korea] to hold a normalized physical event. In fact, we did have a lot of concerns before the start.
"Theatres in Korea have not been doing well and were at about 30% of admissions compared to previous normal years. I was thinking, if we get more than 50% of our pre-pandemic years' usual admissions, people will at least say we tried. I don't have the final numbers yet, but we've done much more than that. At least two-thirds of on-sale seats were bought. The numbers will be higher than that.
"Having a festival with proper networking, making the most of outdoor spaces in Jeonju – keeping in mind the Covid-19 virus - and showing off the traditional architecture of Jeolla Gamyoung or Jeolla Daesaseupcheong in the Hanok Village has had a great response from our international guests who tell me these places have been fantastic. Busan has its beaches, but Jeonju has these historical spaces that are like movie sets."
He also noted that young audience members showed up to all the 10am screenings with enthusiasm, despite the city's active nightlife.
"You'd think that after a late night of drinking, there would be no-shows, but the sold-out screenings were packed even at 10am," he said. "Their reactions were good, too. These filmmakers are precious, but I'm also thankful to these audiences who came out for them and appreciated them."
Measures to combat the spread of Covid-19 have been strictly observed throughout the festival and wearing masks in public, including during screenings, is mandatory. On hosting a festival in a pandemic, Lee harked to his skills and attitude as a producer. "When you make films, there are 10,000 reasons why something won't work," he added. "But as a filmmaker, it's your job and your destiny to find out the one way it can work and make it work."
Jeonju IFF opened on April 28 with Kogonada's After Yang and will continue until May 7, closing with a screening of Eric Gravel's Full Time.