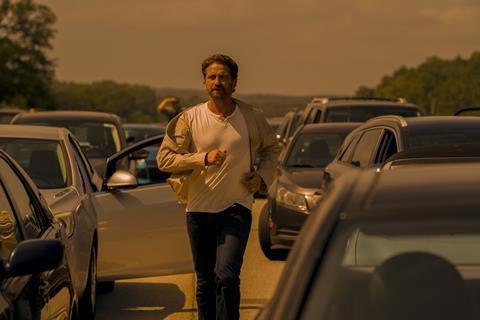 ErosSTX's survival thriller Greenland will bypass a US theatrical release and debut on PVoD in the fourth quarter followed by HBO Max in early 2021.
It is understood HBO Max paid in the region of $25m for rights.
Greenland has already grossed more than $20m from its international theatrical release, however STXfilms motion picture group chairman Adam Fogelson and his team took the decision in light of US cinema closures in key markets.
While roughly 70% of the US market has reopened, the pandemic has kept cinemas in the key markets of Los Angeles and New York shut. Those markets account for roughly 10-15% of US box office.
STXfilms said Greenland, in which Butler stars opposite Morena Baccarin as a man trying to save his family from a comet strike, opened at number one in 22 territories.
STX will continue to roll-out the film theatrically in many international markets. It will open in the UK, Canada and Australia on Amazon Prime.
"We conceived Greenland as a theatrical experience and audiences have responded strongly in every market where moviegoing is robust," said Fogelson.
"In some markets, however, we need a different strategy to get the movie out in a timely and economically advantageous fashion… We are actively producing and acquiring an exciting slate of content for theaters going forward. They are, and will continue to be, our critical partners."