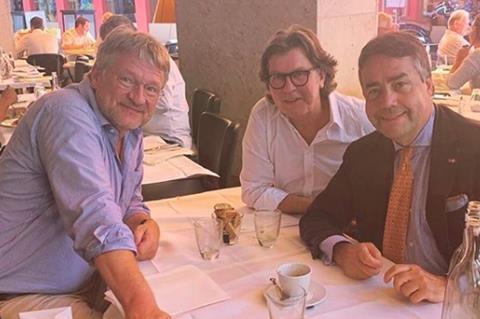 Frankfurt-based regional film fund HessenFilm has fired CEO Hans Joachim Mendig over a controversial meeting pictured in an Instagram post in which the businessman is seen sitting down with far-right politician Jörg Meuthen.
The fund's supervisory board voted unanimously at an extraordinary meeting on Tuesday (24) to terminate Mendig's employment with immediate effect.
The decision came after growing calls from the German film community for Mendig to step down after a local Frankfurt newspaper reported on the Instagram post dated July 24 by Meuthen, the co-leader of Germany's far-right Alternative for Germany (AfD) political party, known for its inflammatory stance on immigration and Islam.
The photograph (pictured) showed the two men at a restaurant with PR executive Moritz Hunzinger. Meuthen had written at the time that the trio had had "a stimulating and constructive exchange of political views."
The post triggered outrage within the German industry and sparked numerous complaints to Screen about Mendig's decision to meet with the men. When pressed on the matter, Mendig's only response to Hessen's minister of arts and culture and chair of HessenFilm's supervisory board Angela Dorn was to say the meeting had been "a private matter."
Last Friday (20) Dorn announced that the board would convene on Tuesday "to discuss the announcement by many filmmakers that they no longer wanted to work with HessenFilm, the resignations of jury members and possible damage to the image of the federal state and HessenFilm."
Calls for Mendig to step down reached fever pitch in the last two weeks, as leading film bodies such as the German Film Academy and the German Directors Guild (BVR) issued protest letters.
The BVR declared in its statement that "as the managing director of a state funding institution, Mendig holds and represents an office with high demands on non-partisanship, openness for diverse artistic positions, democratic culture and transparency. With the demonstration of his private closeness to people who strictly reject all this, Mendig has clearly disregarded his role as a public person of a state institution representing the state of Hesse."
Meanwhile, another petition calling for the former CEO's resignation attracted signatures from more than 550 representatives of the German filmmaking community, ranging from such directors including Dominik Graf, Emily Atef, Veit Helmer, Vanessa Joop, Jan-Ole Gerster, Nicolette Krebitz and Hans-Christian Schmid.
Signatories from the producing community included Felix von Boehm, Sol Bondy, Jakob and Jonas Weydemann, Arne Birkenstock, Milena Maitz and Christoph Friedel, as well as actors Iris Berben, Jasna Fritzi Bauer and Jasmin Tabatabai, and festival directors and programmers from Oberhausen, Munich, Saarbrücken, and Hamburg, among many others.
Projects backed by HessenFilm recently include the second series of German TV series Bad Banks, which airs on ZDF and ARTE.