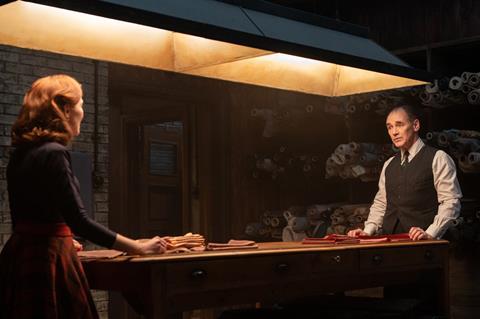 The 18th edition of the UK's Glasgow Film Festival (GFF) will open with the UK premiere of Graham Moore's US title The Outfit, and close with the UK premiere of Croatian director Antoneta Alamat Kusijanovic's Camera d'Or-winning Murina, when the festival runs as an in-person event from March 2-13.
The line-up includes 10 world premieres, four European premieres and 65 UK premieres.
Scroll down for the full list of world premieres
The Outfit will receive its world premiere as a gala screening in Berlin and is the directorial debut of The Imitation Game writer Graham Moore. Mark Rylance plays a tailor who leaves London for Chicago, where he opens a business making quality clothes for gangsters. Dylan O'Brien, Zoey Deutch and Johnny Flynn also star.
Murina is a family drama and follows a battle of wills between a bullying father and his teenage daughter who longs to be rid of him, set on a Croatian island. Martin Scorsese has an executive producer credit.
World premieres at the festival include Skint, a series of monologues about living in poverty and homelessness commissioned by the BBC and shown in a feature-length format, from a creative team including Peter Mullan, Jenni Fagan, Cora Bissett and Lisa McGee; Wake Up Punk from Joe Corré, the son of Malcolm McLaren and Vivienne Westwood, who in 2016 burnt millions of pounds worth of punk era memorabilia in protest; and Pictures From Iraq, a collaboration between Scottish war photographer David Pratt and director Robbie Fraser, following Pratt's journey into the war-torn land.
GFF will also host an exclusive preview screening of the first episode of season six of Starz series Outlander and host an 'in-conversation event' with the Glasgow-born Armando Iannucci, director of The Personal History Of David Copperfield and creator of The Thick Of It and Veep.
For the first time, GFF is partnering with cinemas across the UK to simultaneously screen selected titles. They will include The Outfit, Murina, and an International Women's Day UK premiere of Audrey Diwan's Happening on March 8. A selection of titlets including Scottish director Ruth Paxton's feature debut A Banquet, will screen both at GFF and online via the Glasgow Film At Home platform.
GFF 2022 world premieres
*Denotes part of FrightFest sidebar
A Cloud So High, dir. Chris Parson*
Adult Adoption, dir. Karen Knox
Angry Young Men, dir. Paul Morris
Ashgrove, dir. Jeremy LaLonde
The Hermit of Trieg, dir. Lizzie McKenize
Legacy Of An Invisible Bullet, dir. Doug Aubrey
Monstrous, dir. Chris Sivertson*
Pictures From Iraq, dir. Robbie Fraser
Skint, dirs. Cora Bissett, Corey Campbell, Jenni Fagan, James Price, Lisa Clarkson, Cash Carraway
Wake Up Punk, dir. Nigel Askew