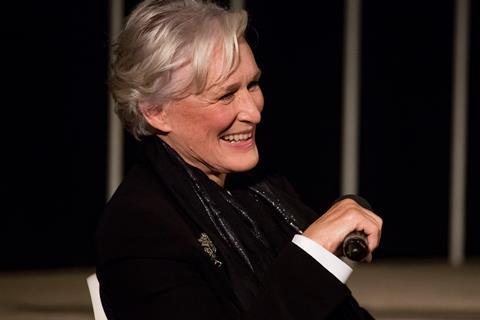 Glenn Close has revealed more details of her Amazon pilot Sea Oak, about Aunt Bernie, a meek old woman who comes back from the dead with a new attitude.
"It's a character like I have never played before. She is a little old lady, she works at a dollar store, in a rust belt town in upstate New York, they don't have a lot of money. She has a nephew and two nieces both have babies and they have all moved in with her," Close revealed in her Masters talk at the Zurich Film Festival on Monday.
"She comes back to have everything she didn't have in life," Close explains. "I've never seen a woman like that having sex with a FedEx man!…I said, 'this is a lot of fun!'"
She spoke to Sea Oak's writer George Saunders (author of hit Lincoln in the Bardo) about his authentic portrayal of the working class. "It's that demographic you don't see terribly often. That's the demographic that have become Trump people to a large extent. The poor working class whites who feel angry about a lot of things. The first time I talked to George, I said, 'I guess the worst thing you could do in this is to condescend.'"
During her talk she also spoke about her excitement and nervousness at the prospect of playing Norma Desmond, a role she has inhabited on stage for decades, in the Sunset Boulevard film being set up at Paramount. "Ryan Murphy is lined up to direct it, whether it will ultimately get the greenlight depends on the team he assembles…I'm excited and terrified, to translate something musical onto film, and something that has only existed on stage to film is very challenging. He's a genius in a way, and he said to me, 'I know how to do this!' I haven't heard yet what he means but hopefully we will find out."
Being proactive
Close presented her new film The Wife in Zurich and received the festival's Golden Icon Award. In The Wife, directed by Bjorn Runge, she plays Joan Castleman, a woman who reaches her breaking point just as her husband (played by Jonathan Pryce) is about to receive the Nobel Prize. "It's rare to have this kind of story for a woman my age…It was fascinating and complex and authentic."
Close, of course, would like to see more roles for women especially women her age.
"It's interesting with my generation of actresses, I think we're at the peak of our power, and what kind of material will come forth for us?"
She was inspired by the recent Emmys wins for Big Little Lies, which was executive produced by stars Reese Witherspoon and Nicole Kidman. " You don't want to sit around and wait for something to come along, I think it's really, really good to be proactive and develop and seek out material yourself."
She co-wrote the script and was producer for Albert Nobbs in 2011. Now, she says, "it's not outside the realm of possibility [to produce again], I would like to write another script, I just have to carve out the time to sit down and do it.
She explained that the studios were now "divisions of corporations" with monetary pressure trying to hit the 18-45-year-old male audience. "What kind of woman does an 18-45 year old male want [on screen]? Not me."
"I think things are in cycles. I think there was a time when studios were making what we call independent films, those interesting stories, I don't know if that will ever come back as far as the studios are concerned, but it's such a golden age and there is a need for content, so I think there will be much more variation in the kinds of stories that are told. Then it becomes a question of how you let people know where these stories exist so that they partake of it. It's a real time of change."