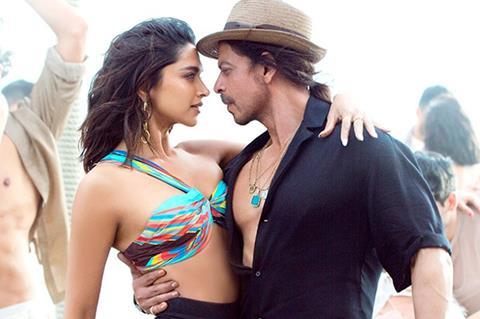 World box office January 27-29
| | | | | | | |
| --- | --- | --- | --- | --- | --- | --- |
| Rank | Film (distributor) | 3-day (world) | Cume (world) | 3-day (int'l) | Cume (int'l) | Territories |
| 1. | Full River Red (various) | $144.3m | $466m | $144.3m | $466m | 1 |
| 2. | The Wandering Earth 2 (various) | $106.2m | $382.7m | $104.9m | $380m | 7 |
| 3. | Avatar: The Way Of Water (Disney) | $58.1m | $2.12bn | $42.4m | $1.5bn | 53 |
| 4. | Pathaan (various) | $53.8m | $67.8m | $47.9m | $59.3m | 100 |
| 5. | Boonie Bears: Guardian Code (various) | $43.7m | $136.4m | $43.7m | $136.4m | 1 |
| 6. | Puss In Boots: The Last Wish (Universal) | $25m | $334.1m | $14.3m | $193.3m | 80 |
| 7. | Hidden Blade (various) | $22.3m | $85.8m | $22.3m | $85.8m | 1 |
| 8. | Deep Sea (various) | $21.5m | $66.6m | $21.5m | $66.6m | 1 |
| 9. | M3GAN (Universal) | $14.2m | $146m | $7.8m | $63.8m | 76 |
| 10. | Plane (Lionsgate) | $10.9m | $35.4m | $7.1m | $10m | 40 |
Credit: Comscore, click top right to expand. All figures are estimates.
'Pathaan' debuts with $68m worldwide
Yash Raj Films' Pathaan has broken box office records in India with a well-timed release, taking advantage of the country's Republic Day weekend holiday. This fourth film in the YRF Spy Universe series of action thrillers – following EK The Tiger (2012), Tiger Zinda Hai (2017) and War (2019) – marks the return of Shah Rukh Khan to the big screen, in his first starring role since 2018's Zero.
Pathaan opened last Wednesday (January 25), grossing $41.8m in its first five days in India, according to Comscore estimates, and $26.0m overseas – including $5.9m in North America.
In India, box office is reported in crores (10 million) of rupees. Pathaan is the first Hindi film to gross R100 crore ($12.2m) in its first day. Worldwide, the film passed R200 crore in two days, R300 crore in three days and R400 crore in four days – becoming the fastest Hindi film to reach these global box office milestones.
The overseas tally includes £2.0m ($2.5m) for the UK and Ireland – the biggest ever opening in the territory for a Hindi film. In Saudi Arabia, the release by VOX Cinemas and Yash Raj Film likewise broke records for a Hindi film, opening with 67,400 admissions for the weekend period and 88,800 across the five days.
War, the most recent film in the YRF Spy Series, grossed $67.2m worldwide in total in 2019.
'Avatar 2' passes $2.1bn – now fourth-biggest film of all time
Disney's Avatar: The Way Of Water has ceded the global box office crown in its seventh weekend of release, knocked aside by two Chinese films released for the Lunar New Year holiday.
However, the film's stakeholders will be celebrating The Way Of Water's rise up the all-time global ranking – in the past week overtaking both Avengers: Infinity War ($2.05bn) and Star Wars: Episode VII – The Force Awakens ($2.07bn) to become the fourth-biggest film of all time.
The Way Of Water added an estimated $58.1m at the weekend, taking its total after seven weeks to $2.12bn. It is now the highest-grossing film of all time in France as well as 19 other territories including Austria, Hungary and New Zealand. It's the highest-grossing US studio film in India, South Korea and six other countries.
Next in the sights of The Way Of Water is Titanic, which stands at $2.19bn worldwide including various rereleases. James Cameron directed three of the world's four biggest films: Avatar ($2.92bn) and its sequel and Titanic. The Russo brothers' Avengers: Endgame is the sole interloper, with $2.80bn.
Disney either released or now represents the top six films of all time at the global box office: two Avatars, the final two in the Avengers series, Titanic and The Force Awakens.
Chinese New Year releases surge up global chart
The January 20-22 weekend saw five films enter Comscore's global top 10 chart ­– all released for the China Lunar New Year holiday, and grossing a combined $186m.
However, that was only the warm-up act – since all were released on the Sunday (the actual Lunar date), and recorded a single day of box office for that weekend period.
With the lunar festival historically spanning 15 days, and the week-long public holiday extending to Friday January 27, the January 27-29 weekend saw box office rises for four of the quintet – and Zhang Yimou's historical drama Full River Red has leapfrogged Frant Gwo's sci-fi prequel The Wandering Earth 2 to knock Avatar: The Way Of Water off the top of the global box office chart.
Full River Red grossed $144.3m over the weekend, taking the total after eight days to $466.0m. The Wandering Earth 2 added $106.2m (of which $102.9m in China), bringing its total to $382.7m ($377.5m in China).
In fifth place globally, animation Boonie Bears: Guardian Code grossed $43.7m, for a $136.4m total. And in seventh place, Second World War spy thriller Hidden Blade added $22.3m, taking its total to $85.8m.
Animation Deep Sea, which was not among China's top five films on opening weekend, grossed $21.5m, taking the total to $66.6m.
The success of these titles, as well as The Way Of Water ($237m in China to date) has helped China post a sturdy $1.36bn so far this year, according to Artisan Gateway – up on the $395m grossed for the equivalent period in 2022. Last year, the Lunar New Year date was not until February 1, which has skewed the figures.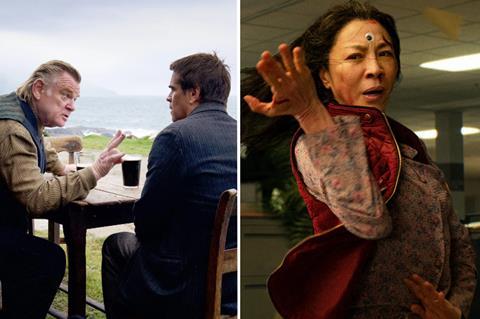 Oscar nominations boost nominated titles
In North America, last week's Oscar nominations have translated into surges for nominated titles. A24's Everything Everywhere All At Once has crashed back into the chart in 13th place, with just over $1m from 1,400 sites, taking the domestic total to $71.0m. Surprise best picture Oscar nominee Women Talking (United Artists Releasing) also grossed just over $1m, a rise of 167%, and taking the total to $2.4m.
Universal's The Fabelmans grossed an estimated $760,000, up 73%, and taking the total to $16.0m. Searchlight Pictures' The Banshees of Inisherin saw a 382% rise, grossing an estimated $353,000, taking the North America total to $9.8m. Focus Features' TÁR rose 140%, with estimated takings of $174,000, and a $6.2m total.
A24's The Whale, which had already been playing robustly in January, dipped 20%, with weekend takings just over $1m, bringing the total after eight weeks to $14.9m.
For international, Universal's TÁR arrived in 12 fresh markets (bring the footprint to 13 territories), scoring best in France (an estimated $571,000) and Australia ($462,000). UK/Ireland is the sole holdover market, and has grossed $1.8m after three weekends. The global total is now $9.6m.
The Fabelmans expanded its international footprint to 15 Universal markets and 28 for Amblin (including UK/Ireland via eOne). UK/Ireland was the top opener, with an estimated $1.3m. International total is just under $1m for Universal and $8.1m for Amblin. Global total so far is $25.0m.
Sony scores German hit
Sony Pictures International Productions has scored a strong debut in Germany with oddly punctuated family adventure Die Drei ??? – Erbe des Drachen (aka The Three Investigators – Legacy Of The Dragon). The film centres around a famous trio of boy detectives who must unravel mysteries involving a long-missing boy.
Sony's film opened in second place at the German box office with an estimated $2.8m including previews (and $3.1m including three other markets).
Two earlier English-language films were adapted from the Robert Arthur Jr juvenile detective book series, which began publication in 1964. In 2007, The Three Investigators And The Secret Of Skeleton Island was released, followed in 2009 by The Three Investigators And The Secret Of Terror Castle (released in Germany as Die Drei ???).