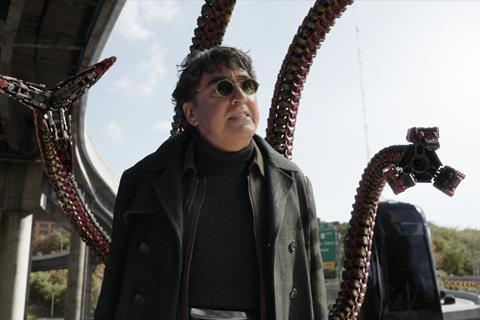 Global box office takings in 2021 finished at an estimated $21.4bn, 78% ahead of 2020's $12bn, according to research by UK-based film tech firm Gower Street Analytics.
This 2021 total is 48% below the average of the last three pre-pandemic years (2017-2019, $41.3bn), and just shy of the $21.6bn predicted by Gower Street in October.
China had the biggest market share globally for the second year running, with $7.4bn, or 34% of the total box office for the year (compared to 28% in 2020).
The territory was helped by homegrown hits, with three of the top five highest-grossing films of the year local productions (The Battle Of Lake Changjin, Hi Mom and Detective Chinatown).
Asia Pacific as a whole took $11.3bn (53%). North America accounts for $4.5bn (21%), Europe, Middle East and Africa (EMEA) took $4.4bn (21%) and Latin America $1.1bn (5%). The UK and Ireland took 4%.
Compared to 2020, there is little change within North and Latin America. The biggest movements could be seen in EMEA, with a fall from 23.1% to 20.7% of total market share, while Asia Pacific grew from 50.2% to 52.8%.
Gower Street attributes this to large parts of Europe being in lockdown throughout the year, whereas Asia Pacific managed to remain relatively lockdown free for the majority of 2021, with most of the growth down to China. Elsewhere in Asia, South Korea's market share shrank to 2.3% having previously stood at 4.1% in 2020, while Japan's share of 6% lags behind 2020's 12.2%.
In spite of the Omicron surge, December accounted for the biggest box office results for all markets since the pandemic, excluding China, driven by Spider-man: No Way Home, which took $1.3bn, despite not having been released in China or Japan (where it's still set for 2022).
At the start of the year just 56% of cinemas were open globally, with only 24% in the EMEA region. By the end of the year, 90% of cinemas have been open globally. The only region with less than 90% is North America.