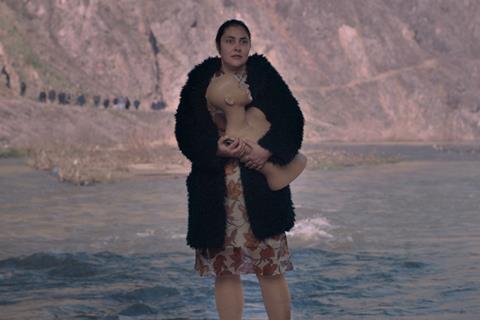 North Macedonian director Teona Strugar Mitevska's drama God Exists, Her Name is Petrunya has won the European Parliament's Lux prize.
The other short-listed films were Danish director Mads Brügger's investigative documentary Cold Case Hammarskjold and Spanish filmmaker Rodrigo Sorogoyan's political thriller The Realm.
The prize, which was launched in 2007, is voted on by Members of the European Parliament following special screenings of the three nominated films in cinemas in Strasbourg.
European Parliament president David Maria Sassoli announced the prize during a plenary session of the European Parliament on Wednesday (Nov 27).
In a related event on the eve of the awards ceremony, there was a special parliamentary ceremony dedicated to Ukrainian Oleg Sentsov, at which he officially received the 2018 Sakharov Prize for Freedom of Thought.
He was awarded the parliament's human rights prize last year but was still in prison in Russia at the time. Mitevska attended a round-table with the director as part of the event.
The Lux prize victory for God Exists, Her Name is Petrunya follows hot on the heels of triumph at the Arab Critics' Awards for European Films at the Cairo International Film Festival over the weekend.
The film is about a woman who challenges local traditions when she courageously takes part in a men-only ritual marking a religious holiday. It premiered at the Berlinale this year. The film is sold internationally by Paris-based Pyramide International.
Speaking to the European Parliament on Wednesday, Mitevska said it was important for her to make films tackling key issues in the world.
"It's my duty as a filmmaker to push relevant topics. How do we build a better future if we don't care? We need freedom of speech. Oleg Sentsov spent five years in prison, fighting for it. This should never happen again," she said.