Other winners include Sand Storm, American Honey, Old Stone, Hooligan Sparrow.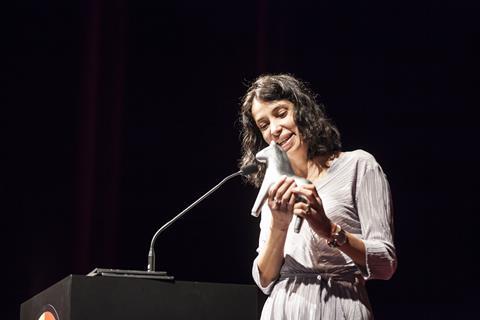 The jury of the 27th Stockholm International Film Festival has given the top award, the Bronze Horse, to Bulgarian director Ralitza Petrova for Godless.
The film previously won the Golden Leopard in Locarno as well as the New Talent Grant PIX in Copenhagen last week. It tells the story of a young physiotherapist struggling to survive in an economically depressed mountain town in post-Communist Bulgaria, who forms an unlikely bond with one of her elderly patients.
The jury — comprised of producer Annika Rogell, directors Roland Vranik, Wayne Roberts and Frida Kempff, and actress Julia Ragnarsson – said the film was "an astonishing masterpiece. This is filmmaking of the highest order and marks the arrival of a new great within cinema. A film that will forever live in the hearts and minds of viewers. It is a true work of art and, simply put, is one of the finest films ever made."
The film's lead actress Irena Ivanova also won Stockholm's best actress award.
Other winners were Sand Storm by Elite Zexer (best first film); American Honey by Andrea Arnold (Fipresci prize); Johnny Ma for Old Stone (best director and best script); Andrei Butica for Dogs (best cinematography); Kévin Azaïs for A Taste of Ink (best actor); Nanfu Wang for Hooligan Sparrow (best documentary); and Imago by Raymund Ribay Gutierrez (best short).
The audience award went to director Ken Loach for I, Daniel Blake. A very close second and third place respectively went to Manchester by the Sea by Kenneth Lonergan and Adult Life Skills by Rachel Tunnard.
The 1 km film-scholarship went to Frida Kempff for Dear Kid.
The iFestival award, voted by the audience, went to Trial and Error by Antje Heyn.
The Stockholm Impact Award – with $107,000 (1 million SEK) — went to Wayne Roberts for Katie Says Goodbye.
The Stockholm Visionary Award went to François Ozon.
The Stockholm Rising Star award went to actor Filip Berg.
As previously reported, the Stockholm Lifetime Achievement Award went to Francis Ford Coppola, who also attended the festival.