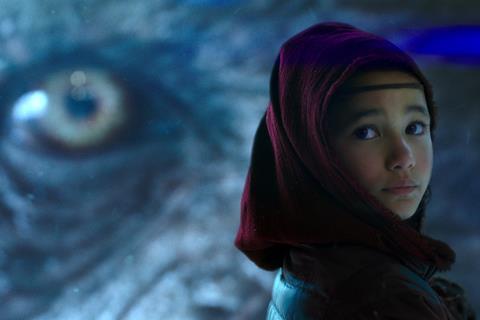 'Godzilla Vs Kong' closing gap on 'Tenet'
UPDATED: Warner Bros and Legendary's Godzilla Vs Kong pushed past $350m at the global box office at the weekend, with a confirmed total of $358.6m, comprising $70m in North America and $288.6m in international. The film will soon overtake Tenet ($363m) to become the biggest Hollywood film released in the pandemic era.
Despite that milestone on the back of a $24.3m weekend, international takings fell hard – down approximately 66% – from the previous session, which benefited from the Easter holiday. Australia bucked the trend with just a 28% drop.
After three weekends of play, Godzilla Vs Kong is running 46% ahead of the pace of Godzilla: King Of The Monsters in 2019 at the same stage of release and 99% ahead of 2014's Godzilla.
In international cumulative totals, China convincingly leads the pack with a confirmed $165.4m. Australia ($16m) overtakes Mexico ($15.9m) to become the second strongest international market, with Taiwan ($11.6m) and Russia ($11.1m) next in the territory list. Rounding out the top 10 markets are India ($8.7m), Thailand ($6.2m), Spain ($5.9m), South Korea ($5.6m) and Vietnam ($5.3m).
Imax screens generated an estimated $2.7m with the monster feature at the weekend, and the Imax total of $26.8m is 9% of the international total.
Godzilla Vs Kong is chasing the $387m global total achieved by Michael Dougherty's Godzilla: King Of The Monsters – an achievable target, given that key markets including Japan and Europe are yet to release. However, the film – which is directed by Adam Wingard, and stars Alexander Skarsgard, Millie Bobby Brown, Rebecca Hall and Brian Tyree Henry – is skipping UK cinemas and has already released there via premium VOD. The $525m worldwide grossed by Gareth Edwards' Godzilla looks unlikely to be matched.
'Mortal Kombat' makes strong start in Russia
UPDATED: Warner Bros' Mortal Kombat launched at the weekend with a confirmed $10.7m from 17 Middle East and Asian markets – a total that was significantly driven by a $6.1m chart-topping haul in Russia. It marks the biggest opening for a Hollywood title in Russia during the pandemic era.
The video game spin-off was likewise top of the box office chart in its other strongest territories, which were led by United Arab Emirates ($721,000), Saudi Arabia ($704,000), Thailand ($562,000) and Taiwan ($524,000).
The fantasy-themed fighting game was originally developed by Midway Games in 1992. A film franchise was launched in 1995, with Paul WS Anderson's Mortal Kombat grossing $122m worldwide. Sequel Mortal Kombat: Annihilation, directed by John R Leonetti, grossed a disappointing $51.4m worldwide in 1997. Simon McQuoid makes his feature directing debut with the new film, with Aquaman and Saw director James Wan among the producers.
Mortal Kombat opens in a further 12 markets this weekend, including Mexico and Spain.
Chinese drama 'Sister' nears $100m in China
Local drama Sister is enjoying a second week at the top of the China box office, with estimated weekend takings of $20.8m brining the total to $99.8m. The Lian Ray Pictures release stars Zifeng Zhang (Go Brother!, 2018) as a young woman who must choose between pursuing an independent life and looking after her younger brother after their parents die. Ruoxin Yin (Farewell My Lad, 2020) directs from a screenplay by Xiaoying You (Love Education, 2017).
Sister led the Chinese box office ahead of Legendary's Godzilla Vs Kong ($13.1m), Filmko Pictures' Monkey King Reborn ($2.8m) and Jiabo Culture Development's The Eleventh Chapter ($1.6m).
New release Super Me is in fifth place, with debut box office of $1.1m. The Black Ant Film Co release premiered at Sitges International Film Festival in 2019, and is written and directed by Zhang Chong (The Fourth Wall). Darren Wang stars as a man who discovers the superpower to make his dreams a reality – but the wealth he consequently acquires attracts the attention of a ruthless gangster, played by Wu Gang. Netflix acquired global rights outside China, former Yugoslavia and Indian region.
All China box office numbers are courtesy of Artisan Gateway.
'Peter Rabbit 2' enjoys box office bounce in Australia
UPDATED: Sony Pictures' Peter Rabbit 2: The Runaway continued its strong run in Australia, rising 33% in its third session, following just a 9% dip in its second. The live-action/CGI hybrid grossed $2.54m, taking the total after 18 days to a spirited $9.2m. The international total, which also includes New Zealand, is $10.2m following a $2.8m weekend.
The film is boosted by school holidays which remain in full swing in Australia, says Sony, with many strong vacation days still to come.
The Peter Rabbit sequel significantly closed the gap with chart leader Godzilla Vs Kong in Australia, in terms of weekend takings. The monster mash-up grossed $2.59m at the weekend, just $50,000 more than Peter Rabbit 2: The Runaway.
'Nobody' boosted by Korea opening
UPDATED: The latest market to open Universal action thriller Nobody is South Korea, where takings of $600,000 helped the feature achieve a solid hold internationally. Overall, international takings were $2.58m (down 30%) to reach $13.4m. The film also held well in North America, with estimated weekend takings of $2.65m (down 12%) for a $15.6m running total. Confirmed total so far is $28.9m worldwide. Next to open are Spain and Mexico, both on April 30.
Bob Odenkirk (Better Caul Saul) stars as a man who becomes the target of a vengeful drug lord after he intervenes to help a woman being harassed by a group of men. Moscow-born Ilya Naishuller directs.