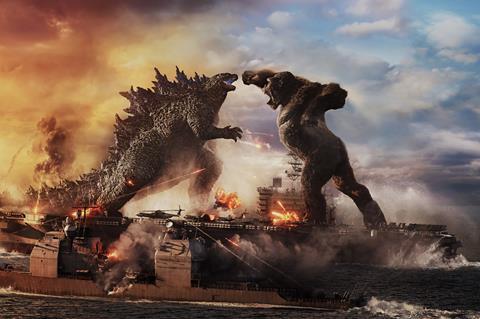 'Godzilla Vs Kong' overtakes 'Tenet'
UPDATED: Warner Bros and Legendary's Godzilla Vs Kong has cracked $300m in international markets, and now stands at $390m including North American takings. The Adam Wingard-directed monster mash-up grossed a confirmed $12.3m in international at the weekend (down 50%) and $7.7m in domestic (down 44%). Cumulative totals are respectively $310.3m and $80.6m.
Godzilla Vs Kong's global total of $390.9m compares with $364m for Tenet – previously the biggest-grossing Hollywood film of the pandemic era.
Godzilla Vs Kong has also overtaken the $387m lifetime total achieved by Michael Dougherty's Godzilla: King Of The Monsters in 2019.
More than half the international total has been generated by a single territory, China, where Godzilla Vs Kong box office now stands at a confirmed $177.4m (RMB 1.1594bn) and is confirmed as the highest grossing Monsterverse film, surpassing Kong: Skul Island (RMB 1.1589bn).
The next biggest international territory – Australia – is a long way behind with an estimated $19.1m. Mexico's total stands at $17.4m. Taiwan ($12.1m) and Russia ($11.6m) have likewise reached eight figures.
Other than Russia, Spain is the only major European market with cinemas open, and has reached $6.4m. In the UK, the film went straight to VoD, and is topping retailer charts such as Amazon Prime Video.
Imax takings for Godzilla Vs Kong stand at an estimated $35m, which is 9% of the global total.
Although this latest film in the series has overtaken King Of The Monsters, numbers remain short of the total achieved by Gareth Edwards' Godzilla in 2014: $525m. Jordan Vogt-Roberts' Kong: Skull Island reached $567m in 2017.
'Mortal Kombat' adds $5.7m in second session
Warner Bros' Mortal Kombat took a confirmed $5.8m in its second weekend of play in select international markets, down 47% from the opening frame. Total now stands at $19.4m.
Numbers fell hard in Russia, which is far and away the strongest market so far for the videogame adaptation: down 69% to an estimated $1.9m. Total in Russia is $9.6m, which is exactly 50% of the international total. Mortal Kombat slipped to second place at the Russia box office, knocked aside by local film Chernobyl.
Mortal Kombat was boosted by its arrival at the weekend in Mexico, where it grossed $746,000, as well as in Indonesia ($662,000) and Spain ($572,000). The film should be boosted again this coming weekend by its arrival in Australia, which is currently one of the world's most robust territories for cinema box office, especially for English-language fare.
'Detective Conan: The Scarlet Bullet' hits bullseye
Toho anime Detective Conan: The Scarlet Bullet was the top-grossing film worldwide at the weekend, thanks to a strong start in Japan and China, where it topped the chart. In China, the film debuted with $17.1m. Official numbers are not available yet for Japan, however the film grossed $1.2m from 38 Imax screens in the territory – which Imax says is expected to be 7% of the total. That would deliver a $17m opening in Japan across all cinemas – the same as the China outcome.
The Scarlet Bullet is the 24th in a film series that began in 1997 with Detective Conan: The Time Bombed Skyscraper, and is based on the boy detective manga series by Gosho Aoyama. The film is directed by Tomoka Nagaoka, who also directed 2019's Detective Conan: The Fist Of Blue Sapphire, the 23rd feature in the franchise.
'Peter Rabbit 2' moves up to top spot in Australia
Another strong hold for Peter Rabbit 2: The Runaway in Australia sees the Sony Pictures release move up to the top spot, elbowing aside Godzilla Vs Kong, which had topped the chart for three weeks in a row.
Peter Rabbit 2 grossed Aus$2.89m ($2.24m) in its fourth weekend of play, a decline of just 13%. Total after 25 days is a healthy Aus$17.6m ($13.6m). International total including New Zealand is $14.7m.
In Australia, The Runaway still has some distance to travel to catch up with the very robust $20.7m achieved there by the original Peter Rabbit in 2019. Cinemas are currently operating under pandemic restrictions.
Sony is also enjoying international success with Man In Love in Taiwan, where the film – which is a local-language remake of the 2014 South Korean romantic drama about a low-level gangster who learns he has a terminal illness and falls in love for the first time – has topped the box office for three weeks in a row. Total so far is $8.6m. Man In Love is the highest-grossing Taiwanese film released during the pandemic period.