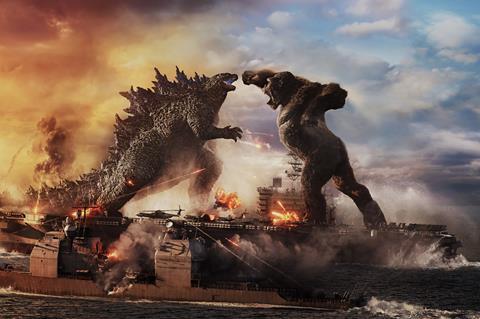 Warner Bros/Legendary's Godzilla Vs. Kong has scored the highest opening day for a Hollywood release in China since the onset of the pandemic, grossing an estimated $21.5m (RMB 140m) on Friday (March 26).
According to sources, the number was achieved with 75% occupancy rates due to Covid restrictions.
The monster mash-up directed by Adam Wingard recorded the highest pre-sales for opening day for all imported titles since Covid with RMB 45m, surpassing Tenet on RMB 22.5m.
Christopher Nolan's thriller previously held the opening day record for all imported titles in 2020 and 2021 year-to-date on RMB 57m.
Godzilla vs. Kong launches this weekend in most of the world and is scheduled to open in North America on Wednesday (March 31) in cinemas via Warner Bros and on HBO Max.
Alexander Skarsgård, Millie Bobby Brown, Rebecca Hall, Brian Tyree Henry, Shun Oguri, Eiza González, Julian Dennison, Kyle Chandler and Demián Bichir star.