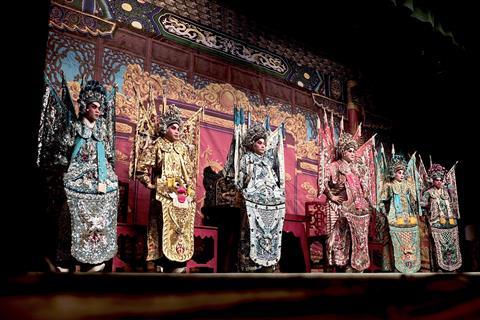 Hong Kong's Golden Scene has picked up international rights to two Golden Horse-nominated films, Bamboo Theatre and My Prince Edward, which it will start selling in Busan's Asian Film Market.
Both titles are fully Hong Kong-financed independent productions. Backed by West Kowloon Cultural District, Cheuk Cheung's Bamboo Theatre is a documentary exploring the centuries-old Hong Kong tradition of building theatres for Cantonese Opera from bamboo. The film recently had its world premiere at South Korea's DMZ Docs and is nominated for best documentary at the Golden Horse Awards.
Cheung previously directed documentary My Way (2012) about a Cantonese Opera singer. "While My Way was more about one singer's individual journey, this film looks at these amazing structures that are built from memory without drawings," said Golden Scene's Felix Tsang.
Norris Wong Yee-lam's My Prince Edward has picked up three Golden Horse nominations, including best new director, best leading actor for Chu Pak-hong, and best original film song.
Backed by Hong Kong's First Feature Film Initiative (FFFI), the female-centric drama is produced by O Sing Pui and Chan Hing-kai, who previously collaborated on indie hit Weeds On Fire, and also stars Stephy Tang.
Golden Scene, which is one of Hong Kong's leading buyers, has recently expanded its slate of Hong Kong indie titles for international sales. "We've had more independent Hong Kong filmmakers approach us recently, as we've built up a strong profile with titles such as Mad World and Still Human," said Tsang. Still Human, which premiered at last year's BIFF, and Wong Chun's Mad World are both Hong Kong indie productions that have won multiple awards.
Also new on Golden Scene's slate are Dayo Wong's action comedy The Grand Grandmaster and Leung Pak Kin's drama Ciao, UFO, starring Charlene Choi. Both films are in post-production.