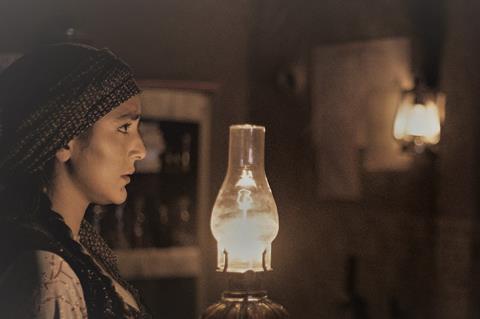 The new Göteborg Film Fund has confirmed its second round of funding, including its first development grants.
The supported projects include the Iranian-Kurdish thriller Zalava, the feature debut of Arsalan Amiri, which is competing in Venice Critics' Week; and Ukrainian drama Pamfir, by Dmytro Sukholytkyy-Sobchuk. The latter is now in post and selected for the Venice Gap Financing Market and is about a decent man who gives up his honest job to help his family.
In addition, Oleg Sentsov, who is premiering Rhino in Venice, is receiving development supportt for his fiction film Kai. The film is inspired by Sentsov's own life experiences such as overcoming his midlife crisis and imagining the future for his child diagnosed with autism.
This round of support includes nine films backed for post-production support and 13 for development support (full list below). Fund manager Camilla Larsson said it was a "selection with very high quality and with an exciting variation when it comes to genre and expression."
Göteborg Film Fund launched as a one-year project in May 2021 by Göteborg Film Festival, supported by the Swedish Ministry of Foreign Affairs, to support films from four different regions: Brazil, Sudan, Ukraine and Kurdish filmmakers, primarily in Iran, Iraq, Syria and Turkey. All together, more than 1 000 applications have been submitted.
In October, the Fund will announce the development projects from Brazil and the grants for innovative distribution for all the regions.
The first three awardees were announced in Cannes.
Post-production support
Aunt Virginia (Bra)
Dir: Fabio Meira
Prods: Janaina Diniz Guerra, Camilo Cavalcanti (Roseira Filmes / Kinossaurus Films)
Alien Nights (Noites Alienígenas) (Bra)
Dir: Sérgio De Carvalho
Prod: Pedro Von Kruger (Saci Filmes)
The Colony (A Colônia) (Bra)
Dir: Lorran Dias
Prod: João Gilberto Lopes (TV Coragem)
A Landless Woman (A Mulher Sem Chão) (Bra)
Dir: Auritha Tabajara, Débora McDowell
Prod: Débora McDowell (Muamba Estúdio)
Pamfir (Ukr-Fr-Pol-Chile)
Dir: Dmytro Sukholytkyy - Sobchuk
Prod: Aleksandra Kostina (Bosonfilm)
Ada (Ukr) - documentary
Dir: Alina Matochkina
Suna (Tur)
Dir: Çiğdem Sezgin
Prod: Betül Sezgin (Kule Film, Baky Films, Taranna Films)
Amedspor (Tur) - documentary
Dir: Rezan Yeşilbaş
Prod: Ahmet Gürata (Rezfilms)
Zalava (Iran)
Dir: Arsalan Amiri
Prod: Samira Baradari, Rouhollah Baradari (Touba Film)
Co-prod: Ruth Yoshie Linton
Development support
African Titanics (Sud)
Dir: Hajooj Kuka
Prod Cos: Gisa Productions / Refugee Club
The House That My Mother Built (Sud) - web series
Dir: Alyaa Musa
Prod Co: Black Balance Artistic Production
Lily's Mecca (Sud-Ger-Switz-Swe-Qat-Fr)
Dir: Marwa Zein
Prod Co: ORE Productions
Goodbye Julia (Sud-Egy-Swe)
Dir: Mohamed Kordofani
Prod: Amjad Abu Alala (Station Films)
Sukkar (Sud)
Dir: Mohamad Hanafi
Prod: Alyaa Musa (Black Balance Artistic Production)
Kai (Ukr)
Dir: Oleg Sentsov
Prod: Denis Ivanov (Arthouse Traffic)
Sasha Take Out the Trash (Ukr)
Dir: Nataliia Vorozhbyt
Prod: Ivanna Dyadyura (IDAS International Film)
Symphony Of Donbas (Ukr) - documentary
Dir: Elena Rubashevska
Prod: Veronika Kryzhna
Nuthouse Road (Ukr)
Dir: Oleksandr Techynskyi
Prod: Oleksandra Kravchenko, Darya Bassel (Moon Man)
Philax (Tur-It)
Dir: Rûken Tekeş
Prod: Billur Arikan, Rûken Tekeş, Gabriele Oricchio, Riccardo di Pasquale (Sarya Films Collective and co-prod Fenix Entertainment)
The Dream Betrayed Me (Syr-Fr-Bel-Ger)
Dir: Mohammad Shaikhow
Prod: Camille Laemlé (Les Films d'Ici)
Symphony Of The Mountain (Iran) - documentary
Dir: Parviz Rostami
Prod Co: Asia Film
Hunchback (Tur)
Dir: Ahu Öztürk
Prod Co: Roni Film