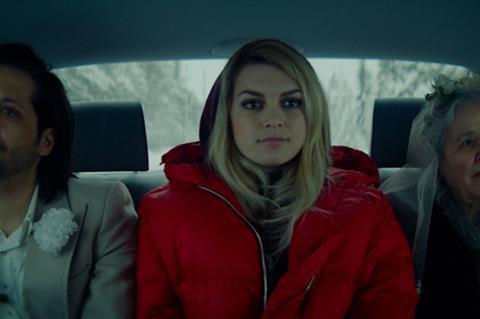 The Goteborg Film Festival will open with Miia Tervo's Aurora from Finland, about a party animal Finnish woman in Lapland who meets an Iranian asylum seeker, on January 26.

The festival will close with the world premiere of Swedish directors' Måns Mårlind and Björn Stein's Swoon on February 4. The period romance is about two young lovers from families who own rival amusement parks.
The festival will screen 376 films from 83 countries.
Full lists of the films in the festival's five competitions below.
The festival will host Eurimages' Audentia Award competition for the first time in 2019 – the award was previously hosted at Istanbul, Locarno and Toronto. The €30,000 ($34,000) prize is designed to promote gender equality in the European film industry. The 10 films eligible for the award include Aurora and are drawn from all sections of the festival,
Also new for the 2019 edition is a new award, the Dragon Award for Best Acting, a gender-neutral prize that will go to the best actor or actress in the Nordic Competition.
The themed focuses in the programme are about Nordic Comedy (films include Britt-Marie Was Here, Ditte & Louise, Heavy Trip and Happier Times, Grump) and the Apocalypse (films include Woman At War, Aniara, The Quake and Ever After).
Also new this year is what is being called "the world's most claustrophobic cinema," as viewers are invited to watch the sci-fi film Aniara in a custom sarcophagus.
As previously announced, Mads Mikkelsen will be honoured with the Nordic Honorary Dragon award. He will give a masterclass as well as presenting the Swedish premiere of Arctic. Other confirmed guests will include Bille August, Thomas Vinterberg, Julie Bertucelli, Adina Pintilie, Joachim Trier and Dominga Sotomayor.
Nordic Competition – prize worth $112,200 (one million SEK)
Aurora, dir: Miia Tervo (Fin)
Aniara, dir: Pella Kågerman and Hugo Lilja (Swe)
Blind Spot, dir: Tuva Nuvotny (Nor)
Koko-di Koko-da, dir: Johannes Nyholm (Swe/Den)
Harajaku, dir: Eirik Svensson (Nor)
Lucky One, dir: Mia Engberg (Swe)
Season, dir: John Skoog (Swe)
Queen of Hearts, dir: May El-Toukhy (Den)
Sons of Denmark, dir: Ulaa Salim (Den)
Sonja – The White Swan, dir: Anne Sewitsky (Nor)
Nordic Documentary Competition
Patrimonium, dir: Carl Olsson (Den)
Hamada, dir: Eloy Domínguez Serén (Swe/Nor/Den)
Privacy of Wounds, dir: Dalia Kury (Nor)
Transnistra, dir: Anna Eborn (Swe/Den/Bel)
Gods of Molenbeek, dir: Reetta Huhtanen (Fin)
Little Moscow, dir: Grímur Hákonarson (Ice)
Mating, dir: Lina Mannheimer (Swe)
Cold Case Hammarskjöld, dir: Mads Brügger (Den/Nor/Swe)
Ingmar Bergman Competition (debut features)
Guerilla, dir: György Mór Kárpáti (Hun)
A Family Submerged, dir: Maria Alché (Br/Nor/Ger)
Fig Tree, dir: Aäläm-Wärqe Davidian (Isr/Ger/Fr/Eth)
Second Life, dir: Park Young-ju (S Kor)
Winter After Winter, dir: Jian Ting (Chi)
Siblings of the Cape, dir: Shinzo Katayama, (Jap)
Coureur, dir: Kenneth Mercken (Bel)
Aren't You Happy?, dir: Susanne Heinrich (Germ)
International Competition
Petra, dir: Jaime Rosales (Sp)
Sorry Angel, dir: Christophe Honoré (Fr)
Leto, dir: Kirill Serebrennikov (Rus/Fr)
Joy, dir: Sudabeh Mortezai (Aus)
The Harvesters, dir: Etienne Kallos (SA/Fr/Gr)
Rafiki, dir: Wanuri Kahiu (Ken/SA/Fr)
Our Struggles, dir: Guillaume Senez (Bel-Fr),
Too Late to Die Young, dir: Dominga Sotomayor(Ch-Br-Arg)
Rojo, dir: Benjamin Naishtat (Arg-Bel-Ger)
A Land Imagined, dir: Siew Hua Yeo (Sing/Fr/Neth)
The Man Who Surprised Everyone, dir: Natasha Merkulova and Alexey Chupov (Rus/Est/Fr)
Maya, dir: Mia Hansen-Løve (Fr)
Angelo, dir: Markus Scheinzer (Aus/Lux)
Giant Little Ones, dir: Keith Behrman (Can)
The River, dir: Emir Baigazin (Kaz/Pol/Nor)
In Fabric, dir: Peter Strickland (UK)
Claire Darling, dir: Julie Bertucelli (Fr)
Real Love, dir: Claire Burger (Fr/Bel)
Golden Youth, dir: Eva Ionesco (Fr/Bel)
Fireflies, dir: Bani Khoshnoudi (Mex/US/Gr)
Audentia Award
Crystal Swan, dir: Darya V. Zhuk (Bel/US/Ger/Rus)
Joy, dir: Sudabeh Mortezai (Aus)
Blind Spot, dir: Tuva Novotny (Nor)
Ever After (Endzeit), dir: Carolina Hellsgård (Ger)
Real Love, dir: Claire Burger (Fr/Bel)
Aurora, dir: Miia Tervo (Fin)
Queen of Hearts, dir: May El-Toukhy (Den)
Golden Youth, dir: Eva Ionesco (Fr/Bel)
Out of Tune, dir: Frederikke Aspöck (Den)
Lucky One, dir: Mia Engberg (Swe)