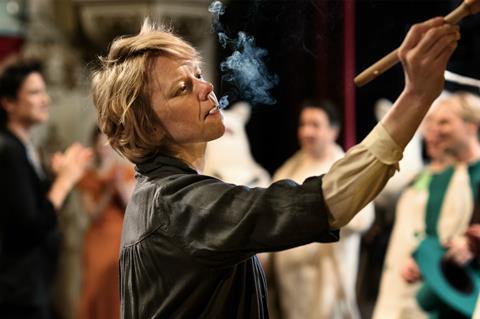 The Goteborg Film Festival has unveiled its slimmed-down lineup of 70 films from 39 countries (compared to the usual size of about 400 films); the festival's 44th edition runs online (due to the pandemic) Jan 29-Feb 8.
Goteborg will open with the Swedish premiere of Zaida Bergroth's Tove, a biopic of Finnish artist and Moomins creator Tove Jansson; and will close with the European premiere of Frida Kempff's Knocking, an unnerving psychological drama about a woman hearing strange noises in her new house. Knocking premieres at Sundance and is sold by Bankside.
It's notable that both films are directed by women; indeed, last year Goteborg achieved gender parity with its programme and this year female directors comprise 47% of the lineup.
The films competing for the €36,000 Dragon Award for Best Nordic Film are Thomas Vinterberg's Oscar hopeful Another Round; Ronnie Sandahl's football drama Tigers; Lisa Jespersen's debut feature Persona Non Grata (a world premiere); Itonje Søimer Guttormsen's artist drama Gritt; Ninja Thyberg's Sundance-selected porn industry drama Pleasure; Cannes Label hit Sweat by Magnus von Horn; and Tove.
Ruben Östlund, who lives in Goteborg, will take part in a directors talk on Feb 4 and will be bestowed the Nordic Honorary Dragon Award. Östlund is currently in post-production on his first English-language film, Triangle Of Sadness.
The year's festival focus is "Social Distances," which has inspired the festival to send one viewer to a remote lighthouse island Pater Noster to watch films alone as well as its own strand of films, including Ildiko Enyedi's The Conversations of Donkey and Rabbit; Annemarie Jacir's Disconnect; Luca Guadagnino's Fiori, Fiori Fiori!; and Jia Zhangke's Visit
The online screenings will be offered to Swedish audiences only; there will also be 'symbolic' one-person physical screenings on the island and at the Scandinavium arena and one of the festival's usual cinemas, Draken.
Goteborg's industry events TV Drama Vision (Feb 3-4) and Nordic Film Market (Feb 4-7) will also be held online this year.
Goteborg's feature competitions are:
Nordic Competition
Another Round, dir. Thomas Vinterberg
Gritt, dir. Itonje Søimer Guttormsen
Persona Non Grata, dir. Lisa Jespersen
Pleasure, dir. Ninja Thyberg
Sweat, dir. Magnus von Horn
Tigers, dir. Ronnie Sandahl
Tove, dir. Zaida Bergroth
Nordic Documentary Competition
A Song Called Hate, dir. Anna Hildur
Aalto, dir. Virpi Suutari
Be My Voice, dir. Nahid Persson
Flee, dir. Jonas Poher Rasmussen
In The Fog, dir. Maciej Kalymon
Radiograph of a Family, dir. Firouzeh Khosrovani
International Competition – winner chosen by festival audience
Beginning, dir. Dea Kulumbegashvili
Never Gonna Snow Again, dir. Malgorzata Szumowska, Michał Englert
Night of the Kings, dir. Philippe Lacôte
Quo vadis, Aida?, dir Jasmila Žbanić
Slalom, dir. Charlène Favier
The Macaluso Sisters, dir. Emma Dante
Ingmar Bergman Competition (debut films)
Gagarine, dir. Jérémy Trouilh, Fanny Liatard
Liborio, dir. Nino Martínez Sosa
Limbo, dir. Ben Sharrock
Mama, dir. Li Dongmei
The Last Bath, dir. David Bonneville
The Salt in Our Waters, dir. Rezwan Shahriar Sumit