Celluloid Dreams handles Valley of Shadows; Media Luna boards Little Wing; Indie Sales represents The Giant.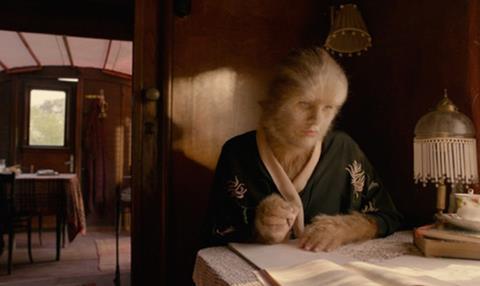 The old adage of 'leaving them wanting more' was certainly on display at the Works In Progress pitches at Goteborg's Nordic Film Market this year (full line-up below).
The most-anticipated pitch of the session was Johannes Nyholm's feature debut The Giant. The director showed several scenes from the film, but refrained from showing footage of the fantastical Giant as he said the VFX was still being worked on.
Also holding back were the producers of Cold Case Hammarskjold, the latest provocative documentary from Mads Brugger (of The Ambassador and The Red Chapel fame), about the death of Swedish diplomat and author Dag Hammarskjold.
Co-producer Andreas Rocksen said the filmmakers had a new theory about how Hammarskjold's plane went down in 1961, but he said the theory won't be revealed until the film is ready.
Several of the projects have sales companies recently aboard, including Celluloid Dreams taking on Norwegian ghost story Valley Of Shadows, Media Luna boarding Finland's father-daughter drama Little Wing, and Indie Sales handling The Giant.
Industry attendees said the quality of the selections this year was especially strong. Nordic Film Market head Cia Edstrom told Screen: "It's the best bunch of projects we've ever had."
Other projects that got industry talking were historical dramas Devil's Bride and Sami Blood, the $9m (€8m) The Lion Woman, and Force Majeure actress Fanni Metelius with her debut feature The Boyfriend.
Screen summarises the 20 projects presented in Goteborg this week (in alphabetical order):
Across The Fields (Den), dir Daniel Joseph Borgman, prod Katja Adomeit
The creative team behind The Weight of Elephants returns with what the director calls "an arthouse drama and also an artistic drama. Skyping from New Zealand, Borgman told the Goteborg audience that his project is "a process-driven film. Our subjects are real people, it's their world and their lives and their wants and their needs that are little engines that drive our fictional story. We have been making the film in a developmental way, we do a little bit of shooting, we make improvisations with these people and we get inspiration for growing the story, it's an organic approach." The story follows a intellectually disabled woman in the Danish countryside who is 60 and wants to find a husband before her aging mother dies. The film will continue to shoot later this spring.
Across the Waters (Den), dir Nicolo Donato, prod Peter Bech
The director of Brotherhood returns with this drama about a Danish jazz guitarist and his family escaping from the Nazis in 1943. "I would like to see what happens when people need to get help," Donato said in his pitch. "This is also a movie about how much you need to help when people are in need." TrustNordisk handles sales and the Danish theatrical release is slated for late summer or autumn; the film will be finished in March after doing most of its post-production in Ireland.
The Boyfriend (Swe) dir Fanni Metelius, prods Rebecka Lafrenz, Mimmi Spang
Metelius, who played the young girlfriend in Force Majeure and served as AD to Lukas Moodysson on We Are The Best!, makes her feature directorial debut and also stars in this film. She said it is "about sexuality, it's a contemporary drama about my generation…We follow this girl during three years and the main theme of the film is about this relationship where she gets rejected in all kinds of ways." She added, "every scene is about sexuality in some way." The film will be delivered this spring and TriArt will release in Sweden in the autumn. The project is still looking for world sales.
The Cave (Nor) dir Henrik Martin Dahlsbakken, prod Asmund Kjos Fjell
Self-taught 26-year old filmmaker Dahlsbakken said this is a "a claustrophobic, intense action thriller with extreme sports elements." It is shot on 35mm and digital in Norway and also in Mexico (where cave-diving scenes were shot). The actors did their own stunts.
Citizen Schein (Swe) dir Maud Nycander, prod Rebecka Hamberger
This documentary looks at the life of Harry Schein, who arrived in Sweden as a 14-year-old refugee from Nazi Austria. He later become a hugely influential cultural and media personality, including serving as founder and CEO of the Swedish Film Institute. Nycander said it is a story of "a refugee making it all the way to the top, and about power and how to use it…It's a Shakespearean story and a madman's story." The film will start editing soon for delivery in the autumn.
Cold Case Hammarskjöld (Den), dir Mads Brügger, prod Peter Engel
Controversial journalist and filmmaker Brugger re-opens the case of the 1961 plane crash that killed UN Secretary General Dag Hammarskjold. "We have a theory of what happened and that does not include pilot error. I will not here and now tell you what it is. But with the work in this film we hope to be able to prove it…It's one of the biggest mysteries in history," said co-producer Andreas Rocksen of Laika Film. The film continues production this summer and will be delivered in early 2017. DR handles sales.
Devil's Bride (Fin), dir Saara Cantell, prod Markku Flink
Set in 1666 on an island between Finland and Sweden, this story is inspired by real witch hunts of young women. Cantell said, "It's a film about passion and guilt and the possibility of forgiveness and love…[The witch hunt is] a fascinating setup but the reason I want to make the film are more personal themes of passion and guilt… It's a very strong story of a young woman." TrustNordisk handles sales and the film could be ready for April/May.
The Ex-Wife (Swe) Katja Wik, prod Marie Kjellson
Ruben Ostlund's casting director Wik makes her feature directorial debut, which also marks the first project from the new production company Kjellson & Wik. The story is about one woman's life in three phases. "Before there is an ex-wife, there is a wife, and before that there is a girlfriend. It's her story told through three relationships," said Kjellson, who said there are moments of humour amidst the seriousness. The three stories are "told in parallel, with cross cutting," she added. Maria Sundbom takes the lead role.
The film, still seeking world sales, will be delivered in April.
Finale (Den) dir Søren Juul Petersen, prod Jacob Schmidt Kondrup
Experienced producer Petersen makes his directorial debut with this genre film, about two women terrified working one night at a gas station while the rest of the nation are at home watching a big football match. The story is adapted from an award-winning novel by Steen Langstrup. "It's a very, scary movie," said Petersen, "But it's much more focused on character, it's a smart horror film." The team is planning a lot of transmedia activity around the project. Scanbox has Scandinavian rights and the film will be finished in May/June.
The Giant (Swe) dir Johannes Nyholm, prods Maria Dahlin, Morten Kjems Juhl
Expectations are running high for this first feature from Nyholm, who had a Cannes and audience hit with short Las Palmas. The Giant is about an autistic and physically deformed man who retreats into an imaginary world [in which he's a 50-meter-tall giant] when he's not playing petanque in real life. "It has like 10 different genres, it's a melting pot of different types of films," Nyholm said. "In one way it's a traditional drama following a guy's up and downs in life. In that way it's like social realism, it's a pretty ugly world. And then in the other way it's a film about his imagination, what's going on in his dreams and his ideas of how to cope … that's totally different aesthetically. And it's a cheesy sports movie on top of that dealing with petanque." Producer Dahlin added, "I wanted to produce a film that pushes the envelope of what you are used to seeing or expect to see from Swedish cinema. It also has a universal theme that's very touching and very funny. It's innovative and it's universal." The film will be finished in April and Indie Sales handles world sales, with TriArt on board for Swedish distribution.
The Happiest Day In The Life Of Olli Mäki (Fin), dir Juho Kuosmanen, prod Jussi Ranamaki
This 1962-set black-and-white drama looks at a real-life champion boxer who faces the biggest fight in his career while also falling in love. "It's a drama but the audience can also laugh or smile while watching it," said the director. Kuosmanen, who has previously been awarded by Cannes Cinefondation, makes his feature debut.
In The Blood (Den) dir Rasmus Heisterberg, prod Caroline Schluter Bingestam
A Royal Affair screenwriter Heisterberg takes on his first film as director. He said the film is "an existential drama about a group of friends having their last carefree summer in Copenhagen in their early 20s. They drink, hangout, chase girls. People start to drift apart and some of them want to have more adult lives. Our main character has trouble with that…. it's about Copenhagen as a city and the special vibe there in the summer. I also wanted to explore the theme of freedom." Scanbox has Scadinavian rights but the production is still seeking world sales, and the finished film will be delivered in April.
I Remember You (Ice), dir Óskar Thór Axelsson, prods Skuli Malmquist, Thor Sigurjonsson, Sigurjon Sighvatsson
The team behind Black's Game reunite for this "genre bender" that producer Sigurjonsson said was "a ghost thriller and a procedural mystery story." Axelsson (who has recently directed three episodes of the hit TV show Trapped) adapted the story from popular author Yrsa Sigurđardóttir, who Sigurjonsson said is like the "Icelandic Stephen King." The story is about three young city folks who encounter a supernatural entity in the remote West Fjords, while a nearby psychiatrist investigates an unexplained suicide. The film is still shooting and will aim for autumn festivals and a Christmas release in Iceland.
Late Summer (Nor) dir Henrik Martin Dahlsbakken, prod Asmund Kjos Fjell
The Cave's Dahlsbakken also presented another feature film, shot in the French countryside. It's about a reclusive older author whose life is shaken when she meets a young couple on holiday. "It's a crime drama with erotic elements, and a mystery about her secrets from the past," the director explained.
Little Wing (Fin) dir Selma Vilhunen, prods Kai Nordberg and Kaarle Aho
This story follows a 12-year old girl who has a troubled mother and wants to find her father. "It's very personal, this movie is kind of a way for me to create a meeting with my father who I never had a chance to meet," said Vilhunen. "The other reason for this story to exist is my eternal love for characters that appear to be weak and lost and losers at first but once we look at them closely enough, they reveal to be much more." Media Luna has come on board for sales, and the film will be delivered this summer.
The Lion Woman (Nor) dir Vibeke Idsøe, prod John M Jacobsen
"It's guaranteed to be a Nordic film you haven't seen before," said producer John M Jacobsen (Max Manus, Trollhunter), of this production that shot mostly "under the radar" despite its big budget of $9m (€8m) and the star power of Connie Nielsen in the cast. The story is set between 1912-1937 and shows the different periods in the life of Eva, who is born with her body and face fully covered with hair. Idsoe adapted the script from a book by her friend Erik Fosnes Hansen. "I was very moved by the story, it was about loneliness, isolation, and how you deal with being different." TrustNordisk handles sales and the film will be delivered this spring, followed by a Norwegian launch on Aug 26.
The Rules For Everything (Nor), dir Kim Hiorthøy, prod Yngve Saether
Hiorthoy's feature debut is "a kind of comedy about death," he explained. The film's description reads that it is "a comedy about finding ways to live that correspond to the impossible truths that we are going to die soon and that all things are made up of atoms." The film, which has a cast including Natalie Press, will be delivered in April and Arthouse will release in Norway in the autumn. The film is still looking for world sales.
Sámi Blood (Swe) dir Amanda Kernell, prod Lars G Lindstrom
This story is about a Sami girl exposed to racism in the 1930s, leading her to reject her culture (leaving her own sister behind at their boarding school) to become someone else. The story was inspired by the director's own grandmother, who rejected her Sami culture to claim a Swedish identity. "I always wondered why she became someone else, if it was worth it, what happens if you cut all ties to your past and your culture and your family," said Kernell. "It's a coming of age film, it's a film about these two sisters and about becoming someone else… and how to be loved." Nordisk has Scandinavian rights but no world sales company is on board yet. The film will be delivered in April.
Valley Of Shadows (Nor), dir Jonas Matzow Gulbrandsen, prod Alan R Milligan
"It's a modern ghost story, set in the Norwegian south, the bible belt. It's about a mother and son in a small village, the mother is carrying deep guilt…she goes out searching the source of this guilt," said Milligan, who was also an executive producer on Un Certain Regard winner Rams. After her six-year-old son loses his dog in a forest, the two start to reconnect. The film, shot on 35mm, will be delivered in April/May and Celluloid Dreams handles sales.
Wolf And Sheep (Den) dir Shahrbanoo Sadat, prod Katja Adomeit
Kabul-based Sadat developed this project at Cannes Cinefondation, inspired by the community in a small village in Afghanistan. "I wanted to make a film from the village I lived in for the first 18 years of my life," Sadat said. "I was trying to put myself in the story. At the time I was living in the village, I was an outsider." The drama has elements of fantasy. No world sales are attached yet, and the project will be delivered in April.