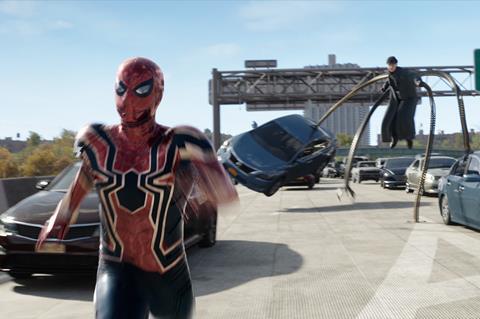 Film data and insights company Gower Street Analytics has issued its first global box office forecast for 2022 that is based on actual outcomes as well as algorithmic predictions.
The UK-headquartered company is forecasting a $31.5bn global total, which would mark a significant uplift to the previous two Covid-impacted years – $21.3bn in 2021 and $11.8bn in 2020.
However, Gower Street's number is down on the $41.7bn average achieved by the world's cinemas in the pre-pandemic years 2017-2019. It's also down on Gower Street's original forecast for 2022 – $33.2bn – which was issued last December, before any tickets for this year had actually been sold.
The revised projection of $31.5bn combines global box office achieved in Q1 of this year with forecasts for Q2, Q3 and Q4, based on the existing release calendar.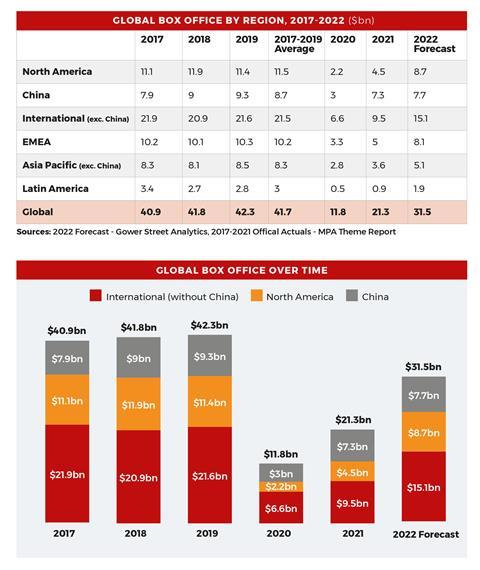 Click top left to expand
Since last December, there have been changes to the 2022 release calendar, new Covid variants, closure of cinemas in key Chinese cities, the withdrawal of Hollywood studios from Russia, and the invasion of Ukraine.
Gower Street co-founder and CEO Dimitrios Mitsinikos acknowledges a higher level of uncertainty in the forecasting. "China is still a big question mark," he says. "Releases are appearing in the calendar, but you cannot guarantee the revenue from that market."
In Gower Street's 2022 forecast, China has been allocated $7.7bn – a modest uptick on the $7.3bn actually achieved in the territory in 2021. In contrast, Latin America is forecast to more than double from $0.9bn in 2021 to $1.9bn in 2022.
Additionally, says Mitsinikos, "The economy is a big question mark, for both the short term and the long term. We see inflation going up. In many countries, we hear that ticket prices are going up, where others are trying to keep them at low levels to entice people. That may affect which countries recover faster, because we expect increased prices will reduce admissions."
Regarding the lopsided nature of the market in 2021, with giant hits such as Spider-Man: No Way Home and a lack of mid-tier titles, Mitsinikos comments, "Midsize films benefit from in-theatre advertising and trailer views, and need blockbusters as part of their own marketing campaign. The fact that we had a very small number of blockbusters for the past two years meant that we didn't have the trailer views that we normally have.
"Midsize films will gradually start doing better as the blockbusters progress. There's a great symbiotic relationship between the two groups of films, and they will see the benefits towards Q4."
Gower Street believes the impact of World Cup football in key markets such as Europe will be less this year, due to the November 21-December 18 dating of the competition (which will take place in Qatar), instead of summer.
"In summertime, football fans might plan a whole day's activities around a key weekend match," says Gower Street director of theatrical insights Robert Mitchell. "Winter you might see an evening showtime impacted by a match, but winter is more cinema-friendly."