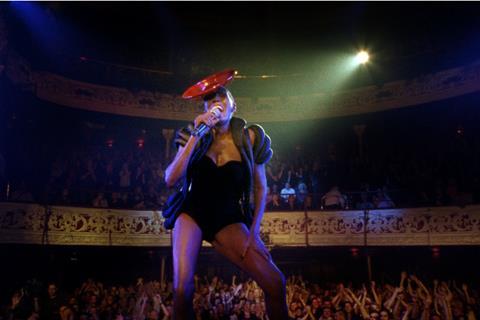 Kino Lorber has acquired North American rights to Toronto title Grace Jones: Bloodlight and Bami and is lining up a theatrical release in early April with a VOD and home entertainment release set for autumn 2018.
WestEnd Films, which handles world sales, has also sold the documentary about the iconic singer and performer to Germany (Ascot Elite), Switzerland (Praesens), Italy (Offine Ubu), Benelux (Arti Film), China (Lemon Tree), Scandinavia and Baltics (Non Stop), Poland (Against Gravity), the Middle East (Front Row), Ex-Yugoslavia (Demiurg) and Australia (Umbrella).
The well-received film, part music documentary and part biopic, was released by Trafalgar in the UK last October.
The deal between Kino Lorber and WestEnd Films was negotiated by Kino Lorber CEO Richard Lorber and Eve Schoukroun and Sofia Neves at WestEnd.
In addition to the US release in April, upcoming releases are scheduled in Germany on January 24, Italy on January 30, and Australia in March.
The film marks the second collaboration between Kino Lorber and director Sophie Fiennes after Over Your Cities Grass Will Grow. Zeitgeist Films, currently in a distribution partnership with Kino Lorber, also released two other documentaries by Sophie Fiennes: The Pervert's Guide to Ideology and The Pervert's Guide to Cinema.
Grace Jones : Bloodlight and Bami is produced by Katie Holly (Love & Friendship) of Dublin-based Blinder Films, alongside Sophie Fiennes, Shani Hinton and Beverly Jones. The film is backed by BBC Films, the BFI with National Lottery funding, the Irish Film Board and Roads Entertainment (Being AP).
Executive producers also include James Wilson (Under The Skin), Francesca Von Hapsburg (Marina Abramovic: The Artist Is Present) and Émilie Blézat.