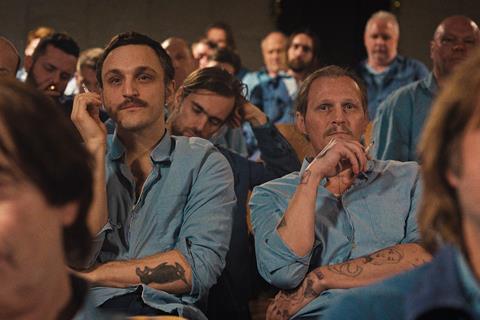 Sebastian Meise's Un Certain Regard jury winner Great Freedom and Jacques Audiard's Cannes Competition title Paris, 13th District will bookend this year's Filmfest Hamburg (September 30 - October 9) as the opening and closing films.
Festival director Albert Wiederspiel and his team have put together a programme of 110 feature-length films from 57 countries, which also includes German premieres of the recent Golden Lion winner Happening, Locarno's Golden Leopard winner Vengeance Is Mine, All Others Pay Cash, Kenneth Branagh's Belfast and Paolo Sorrentino's Silver Lion winner Hand Of God.
The line-up also includes three new films from Romania; Bogdan George Apetri's detective thriller Miracle; Radu Muntean's social commentary Intregalde; and theatre director Eugen Jebeleanu's feature debut Poppy Field. Two productions from Russia travelling the international festival circuit - Alexander Zeldovich's adaptation of classical tragedy Medea and veteran director Andrei Konchalovsky's Dear Comrades! – are also selected.
The 'Contemporary cinema in focus' sidebar for the Filmfest's 2021 edition is dedicated to filmmakers Sean Baker and Andrea Arnold, with screenings of Baker's Starlet and Red Rocket which premiered in Cannes this year as well as Arnold's debut Red Road and her latest feature Cow, which also premiered in Cannes.
Arnold will travel to Hamburg to present her films in person and participate in a bar talk after the screening of Cow on October 1, while Baker's interview will be available to access on the festival's website as he cannot attend the Filmfest.
After a one-year break, the Filmfest will again be handing out awards with prize-money totalling €130,000 ($153,562) to films screening in the various sections, including the Hamburg producer award for German cinema productions, the Hamburg producer award for international cinema co-productions, the art cinema award, and the film critics' award.
In addition, the Douglas Sirk award, named after the director born in Hamburg and presented to a personality who has rendered outstanding services to film culture and the film industry through their work, is also back and will be given this year to the French director Leos Carax following the German premiere of his first English-language feature film Annette at the festival on October 2.
Previous recipients of the Douglas Sirk Award include Jafar Panahi, Wim Wenders, Tilda Swinton and Nina Hoss.