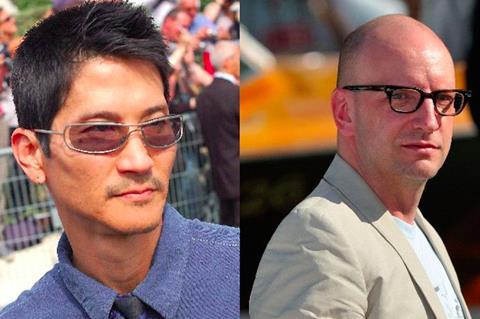 Gregg Araki and Steven Soderbergh, whose thriller Unsane opened at number 11 at the North American box office over the weekend, will collaborate on the half-hour comedy series Now Apocalypse for Starz.
Series creator Araki will co-write and direct all 10 episodes of the coming-of-age comedy about four friends pursuing love, sex and fame in Los Angeles.
Author and Vogue.com sex columnist Karley Sciortino (creator of Viceland's Slutever) will co-write and serve as a consulting producer. Soderbergh is on board as executive producer with Araki and Gregory Jacobs.
Starz – which says the series will be "sexy, vibrant and fast-moving" with "a flip side of mythic, dreamlike creepiness" – will retain all US multi-platform pay TV and streaming rights.
Starz parent company Lionsgate will handle international and North American distribution and home entertainment rights.
In a statement, Soderbergh said: "If this isn't the craziest thing I've ever read, it's tied for first. We will not be responsible for people's heads splitting in half when they see it."
Starz president of programming Carmi Zlotnik added: "Gregg brings an incredibly unique and adventurous story to the Starz brand and we cannot wait for the world to meet the bold, sexy and fun characters of Now Apocalypse. It's exciting to bring diverse and compelling storytelling to the screen as part of Starz's ongoing programming strategy to provide premium content to reach under served audiences."
Araki, best know as writer-director of features including Cannes Queer Palme winner Kaboom, Mysterious Skin and the Teen Apocalypse Trilogy of Totally Fucked Up, The Doom Generation and Nowhere, has previously directed episodes of series including 13 Reasons Why and American Crime. Now Apocalypse will be his first TV series as a creator and writer.
Soderbergh's fast-growing list of credits as a series executive producer include current HBO mystery Mosaic (on which he is also directing a number of episodes), Godless, The Girlfriend Experience and The Knick.