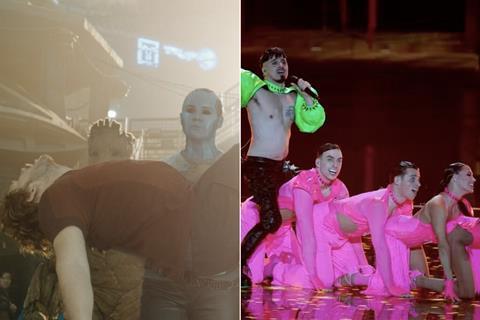 | Rank | Film (distributor) | Three-day gross (May 5-May 7) | Total gross to date | Week |
| --- | --- | --- | --- | --- |
| 1. | Guardians Of The Galaxy Vol. 3 (Disney) | £5.3m | £24m | 2 |
| 2. | The Super Mario Bros. Movie (Universal) | £853,412 | £51.1m | 6 |
| 3. | Book Club: The Next Chapter (Universal) | £299,169 | £299,169 | 1 |
| 4. | Evil Dead Rise (Studiocanal) | £258,167 | £5m | 4 |
| 5. | Eurovision - Grand Final Live (CinemaLive) | £235,465 | £235,465 | 1 |
GBP to USD conversion rate: 1.25
Disney's Guardians Of The Galaxy Vol. 3 comfortably held the UK-Ireland box office lead on its second weekend, as live-streamed screenings of Saturday's Eurovision final broke into the top five titles for the weekend.
Guardians Vol. 3 added £5.3m to reach just shy of £24m from two weekends. Its 42% fall was better than the comparative 48% drop of 2014's Guardians Of The Galaxy which was up to £13.8m; and the 54% fall of 2017's Vol. 2, which was up to £27.4m.
It is the 18th -highest-grossing of 32 Marvel Cinematic Universe titles to date, ahead of Shang-Chi And The Legend Of The Ten Rings (£23.8m) and with the £28.6m total of the first Guardians film. Vol. 2 finished on £41m, which would be in reach for Vol. 3 with a long tail.
Former number one The Super Mario Bros. Movie held second place for Universal, dropping a moderate 35% with £853,412 on its sixth weekend. It has passed the £50m mark with a £51.1m total, and has entered the top 50 highest-grossing films of all time in the UK and Ireland.
Universal stablemate Book Club: The Next Chapter was this weekend's highest-grossing new title, taking £299,169 from 601 sites at a low £488 average. The figure is less than half of the £721,512 opening of 2018's Book Club through Paramount, which ended on £4.2m.
Studiocanal's Evil Dead Rise held a top five spot for the fourth consecutive weekend, dropping 47.7% with £258,167 taking it beyond the £5m mark.
The live-streamed screenings of Saturday's Eurovision – Grand Final Live through CinemaLive broke into the top five. The four-hour show took £235,465 at a £533 average from 442 sites, with some still to report.
Takings for the top five dropped a steep 51.8% from last weekend's 2023 high watermark; with only one weekend in the last three months below the £6.9m of this past session. Universal's Fast X next weekend offers an early chance to put the box office in forward gear.
Picturehouse climbs Mountains
Sony's Love Again opened in sixth place, with £233,081 from 524 sites at a flat £445 average. The romantic comedy is up to £340,385 including takings since its Wednesday May 10 opening.
eOne's The Unlikely Pilgrimage Of Harold Fry dropped 46.7% on its second weekend, with £179,078 taking it to a £2.8m cume to date.
John Wick: Chapter 4 added a further £121,113 on its eighth weekend – a 37.9% fall – and is up to £17.3m for Lionsgate, well clear of the £10.4m of 2019's John Wick: Chapter 3 – Parabellum.
Dungeons & Dragons: Honour Among Thieves added £99,553 on its seventh weekend in cinemas – a 41.4% drop – to hit a respectable £13.6m cume for eOne.
Now available to stream on Prime Video, Warner Bros' Air added £81,000 on its sixth weekend in cinemas, and is up to £4.8m.
Event cinema release Machine Gun Kelly: Mainstream Sellout Live From Cleveland took £57,658 from 165 cinemas on Saturday, May 13 alone for Trafalgar Releasing.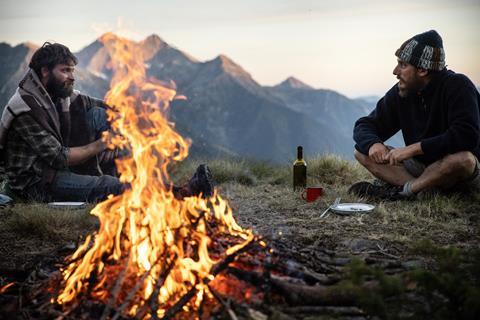 Picturehouse Entertainment's The Eight Mountains was one of the weekend's top performers, taking £52,325 from 50 sites at a £1,046 average – the highest of any new title this weekend. Including previews, Felix van Groeningen and Charlotte Vandermeersch's Cannes 2022 Competition title is up to a healthy £72,025.
Animation Mummies put on a further £48,000 on its sixth weekend for Warner Bros, and has topped the £3m mark.
Sony's Missing added a further £40,719 on its fourth weekend – a 39.8% drop – and is up to £1.1m total.
Mubi's South Korea-set drama Return To Seoul added £37,070 on its second session – a decent drop of just 37% - and is up to £178,538.
Now on its fourth weekend in cinemas, Seventh Art's Vermeer: The Greatest Exhibition added a further £33,331 to reach £818,506.
The Pope's Exorcist added a further £25,935 on its sixth weekend for Sony, and has a £2.5m total.
Having increased its locations to 375 on its 15th weekend in cinemas, Universal's Puss In Boots: The Last Wish saw a 51% increase in takings, with £24,240 taking it to £25.8m.
Nida Manzoor's feature Polite Society added £16,643 on its third weekend in cinemas – a 64% drop – and is up to a £477,580 total; while Renfield dropped 55% on its fifth session with £11,779 taking it to £1.8m, both for Universal.
Sony titles heading out of cinemas include anime Suzume, which put on £15,480 on a decent sixth weekend to reach £1.1m; and Big George Foreman: The Miraculous Story Of The Once And Future Heavyweight Champion Of The World, which added £9,548 to reach £395,348.
Curzon opened Cannes 2022 Un Certain Regard title Plan 75 to £11,376 from 26 cinemas, for a £438 site average; with the film at £15,646 including previews.
Shot design documentary Brainwashed: Sex-Camera-Power opened to £9,174 through BFI Distribution, and has £16,837 including previews.