Disney's latest Marvel outing scores $10.7m (£6.35m) debut to dethrone Fox's Dawn of the Planet of the Apes; Secret Cinema's Back to the Future event grosses $1.2m (£720,000) over first four shows.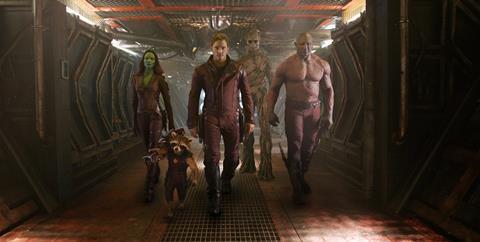 Marvel Studios' riskiest outing to date Guardians of the Galaxy has echoed its domestic success by landing top of the UK box office on debut.
Disney's latest Marvel outing scored an excellent $10.7m (£6.35m) debut, including $2.3m (£1.37m) in previews, from its 550 sites. It's worth noting that its Fri-Sun tally of $8.4m (£4.98m) would have also seen it land the top spot.
In terms of Marvel Studios outings in the UK, Guardians posted the fifth biggest debut and the biggest for a non-sequel, ahead of Iron Man's $9.2m (£5.5m) bow from 500 sites.
The last two Marvel outings – Thor: The Dark World and Captain America: The Winter Soldier – capped at just above and just below £20m, and Guardians could be set to topple both of those, thanks to the strong start and terrific word of mouth.
The arrival (and subsequent impact) of The Inbetweeners 2 this Wednesday [Aug 6] could be key to a lengthy run for Guardians.
Also for Disney, Planes 2: Fire and Rescue flew into 40 sites in Scotland and took $94,000 (£56,000) ahead of its nationwide release this Friday [Aug 8].
FOX
Shaping up to be one of the year's biggest successes, Dawn of the Planet of the Apes fell a slim 19% in its third weekend for an additional $5m (£3m).
Fox's sequel is now up to a mighty $39.5m (£23.4m) and, as expected, has surpassed Rise of the Planet of the Apes' $35m (£20.77m) final UK result. It is currently the year's fourth highest grosser behind The Amazing Spider-Man 2, which it will overtake very shortly.
Also for Fox and repeating the feat of DOTPOTA, How to Train Your Dragon 2 has soared above its predecessor thanks to a 29% boost in its sixth weekend. The animated sequel took a further $1.8m (£1.1m) to fly to $29.7m (£17.6m), topping Dragon's $29.3m (£17.4m) UK tally.
PARAMOUNT
Falling two places to fourth was Paramount's Hercules which added $1.5m (£900,000) and has muscled its way to $6.1m (£3.65m) after ten days in play. It should surpass Brett Ratner's last UK outing, Tower Heist, which grossed $7.8m (£4.6m), but is unlikely to challenge Rush Hour's $11.9m (£7.1m), the lowest grosser of the trilogy.
Also for Paramount, Transformers: Age of Extinction has reached $31.4m (£18.65m) following a $757,000 (£450,000) fourth weekend. Barring a late surge, it now seems set to be the weakest performer of the Transformers series in the UK.
UNIVERSAL
Dropping a very respectable 30% in its second weekend, The Purge: Anarchy took a further $1.4m (£810,000) for $5.2m (£3.1m) to date. It will shortly overtake The Purge's $5.9m (£3.5m) UK performance, and has a good chance of hitting £5m.
Also for Universal, with event cinema takings now included in the official Rentrak chart, Secret Cinema's Back to the Future event grossed $905,000 (£538,000) over the weekend and has amassed $1.2m (£720,000) over its four shows to date. With a mostly sold-out run, expect grosses to remain steady throughout.
Step Up 5: All In posted the lowest opening of the series to date with a $656,000 (£390,000) bow at a $1,782 (£1,059) site average. It's all-but guaranteed to end its run as the weakest Step Up performer in the UK, currently Step Up 4: Miami Heat's $4.4m (£2.6m).
Boyhood fell just 20% in its fourth weekend to add $375,000 (£223,000) and climb to the cusp of £2m at $3.2m (£1.92m).
WARNER BROS
Arriving in the UK almost eight months after its US release, The Nut Job enjoyed a $1.1m (£666,000) debut from its 406 sites through Warner Bros. It should prosper mid-week but from Friday, Planes 2: Fire and Rescue expands nationwide to provide family competition.
EONE
Family sci-fi Earth to Echo recorded a decent 34% drop in its second weekend (Saturday was down only 19%) to take $636,000 (£378,000) for $2.9m (£1.7m) to date through eOne.
Also for eOne, Begin Again has sung its way to $2.4m (£1.4m) after four weeks in play.
STUDIOCANAL
Animation The House of Magic held well in its second weekend through StudioCanal, rising 1% to take $378,000 (£224,506) from its 301 sites for a ten-day tally of $1.4m (£823,770).
Also for StudioCanal, Mood Indigo recorded a healthy debut of $102,000 (£60,538), including around $8,400 (£5,000) in previews, from its 37 sites on debut.
VERTIGO FILMS
Playing in 270 sites in its third weekend, Pudsey the Dog: The Movie grossed $181,000 (£107,447) for $2.1m (£1.3m) to date through Vertigo Films.
UPCOMING RELEASES
This week sees saturation releases for Disney's Planes 2: Fire and Rescue, following its Scotland opening on Aug 1, and Entertainment's The Inbetweeners 2 (opens Aug 6), which will be looking to repeat the £45m success of its predecessor.
Artificial Eye's Lilting, Peccadillo Pictures' Wakolda, Arrow Films' God's Pocket and Altitude's Welcome to New York are among the films receiving a limited release.