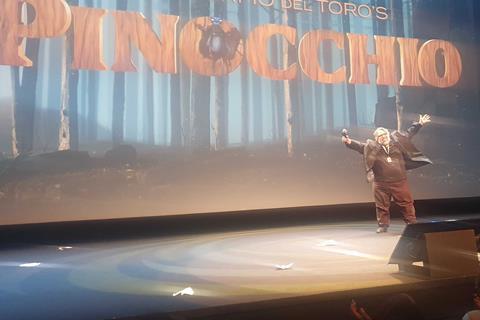 A visit from Guillermo del Toro headlined the Netflix showcase at Annecy today, with the Mexican director presenting footage and a first trailer to a full Grande Salle in the Bonlieu.
Del Toro presented two clips from the film and some behind-the-scenes footage, before finishing with a trailer that he claimed he demanded was part of the presentation.
"There were two things I wanted to do in Annecy: get my fat ass here, and get this trailer shown," said del Toro.
Pinocchio is currently in post-production ahead of a December release; del Toro told the crowd it is "10 minutes from being finished", and that crews are currently working on 60 different sets at once to get the film done in time.
The first clip del Toro presented was of the bedraggled inventor Gepetto (voiced by David Bradley) stumbling quietly around his shop, before he is shocked at the discovery of the wooden boy Pinocchio.
Del Toro told the audience that "everybody in this room has a particular battle" with animation and that his own desires were "to push the acting" in Pinocchio and "to animate silence, to animate unexpected gestures… to avoid the bullshit of pantomime."
In a passionate address that went off-script from his prompter on more than one occasion, del Toro also praised the animation world, saying "the industry is permeable" and that now "there are people who will listen to crazy ideas."
"This is the decade when we can ride home the mantra we all know – animation is film, animation is not a fucking genre," added del Toro.
He also requested that any fans who see him on the street in Annecy approach him for a chat, not to pitch ideas but to share their thoughts on the current state of animation.
"That would make the journey of this corpulent man worth it," said the director, who had been introduced by a video clip from Netflix co-chief executive officer Ted Sarandos.
Fincher, Kid Cudi present
A packed Netflix showcase featured the highest number of projects of any studio in Annecy so far. Rapper Kid Cudi (real name Scott Mescudi) was also present to show footage from his upcoming series Entergalactic, alongside fellow writer Maurice Williams and director Fletcher Moules.
The series, also in post-production, is set for release on Netflix on September 30, and tells the story of an artist on the cusp of success who must decide if he has space for love in his life.
Cudi described it as "a modern-day love story" akin to When Harry Met Sally, with Williams noting the desire to make "a Black love story that didn't have any trauma."
David Fincher appeared in a pre-recorded video to promote the latest episodes of his series Love, Death And Robots, on which he is executive producer and has directed one episode ('Bad Travelling').
The series is a collection of animated shorts spanning fantasy, horror and comedy. "I love any story where the entire cast dies," said Fincher of his episode, adding "my hope is that we never get to a point where we've defined what Love, Death And Robots is going to be."
Further presentations included Chris Williams showing footage from seafaring adventure The Sea Beast, which has its premiere this evening in Annecy and will debut on July 8; and Cartoon Saloon's Nora Twomey showing a look at work-in-progress title My Father's Dragon.