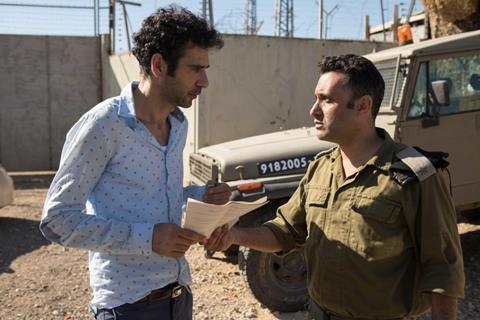 The 34th Haifa International Film Festival (September 22-October 1) came to a close with Sameh Zoabi's Tel Aviv On Fire winning the Haifa Cultural Fund Award for the Best Feature Film in the Israeli feature competition. It comes with a $27,000 prize.
Zoabi's third feature, a comic take on the Israeli-Palestinian conflict, made its debut at Venice Orizzonti strand.
This year's jury comprised Julie Schlez (Israel, Director and Producer), Philippe Le Guay (France, Director and Screenwriter), Salwa Nakkara (Israel, Actreess), Yaron Scharf (Israel, Film and Television Cinematographer), Jordi Rediu (Spain, Producer and Entrepreneur, Partner: BCL Finance Group)
The full list of winners are below.
Best Israeli film
Tel Aviv on Fire (dir. Sameh Zoabi)
Best Feature Debut
No Blood (dir. Joseph El-Dror)
90,000 euros post-production grant awarded by BCL Finance Group
Black Sheep Productions
Best Script
Tel Aviv on Fire
Best Actor
Naveh Tzur in Noble Savage
Best Actress
Laliv Sivan in Love Trilogy: Stripped
Best Editing
Yaron Shani for Love Trilogy: Stripped
Best Cinematography
Daniel Miller for Fig Tree
Best Israeli Documentary
Army of Lovers in the Holy Land (dir. Asaf Galay)
Special Mention
Unkept Secrets director Dalit Kimor
Best international film
Dead Women Walking (USA, dir. Hagar Ben Asher)
Special Mention
Woman At War (Iceland/France/Ukraine dir. Benedikt Erlingsson)
Best Film - between Israeli and Jewish Identity Competition
The Interpreter (Slovakia, Czech Republic dir. Martin Sulik)
Special Mention
The Hebrews - project creator and director: Yair Kedar
The Golden Anchor Competition for Balkan and Mediterranean Cinema
Daughter Of Mine (Italy, Germany, Switzerland 2018 dir. Laura Bispuri)
Special Mention
The Announcement (Turkey, Bulgaria 2018 dir: Mahmut Fazıl Coşkun)
FEDEORA Award for Best Foreign Film
The Load (Serbia/France/Croatia/Iran/Qatar 2018 dir. Ognjen Glavonic)
FEDEORA Award for Outstanding Artistic Achievement
Actor Naveh Tzur in Noble Savage
Industry awards
The Haifa Film Festival's Industry awards were also handed out last week.
They were:
Feature Film Pitching Competition
BCL Finance Group's post-production services grant of 150,000 NIS
Kullo Men Alla by Rotem Kaplinsky
The Israeli Film Fund Development Assistance Grant
Till Cash Do Us Part by Rita Borodiyansk
And Departed by Ori Lachmi and Golan Rise
Works-In-Progress Competition
The Post Republic Cinemarket Post Production Services Award
I Was Born in Jerusalem And I'm Still Alive by David Ofek and Yossi Atia
BCL Finance Group's Cinemarket Post Production Services Award
Virgins by Maor Zaguri
The First Haifa Script Distillery for the development of Israeli films and television series in English for the international market
Feature Films:
Amor 1, by Yaelle Kayam
Holy Land, by Ariel Weisbrod
One and All, by Carmit Levite, Estee and Haim Meckleberg
TV Series:
The Club, by Mor Kaplansky and Shira Hadad
The Trial, by Yair Asher and Yael Segal
Spin Doctors, by Zoe Iris Levornik