The 26th Tokyo International Film Festival (TIFF) has kicked off with Paul Greengrass and Tom Hanks on the fest's signature green carpet for opening film Captain Phillips.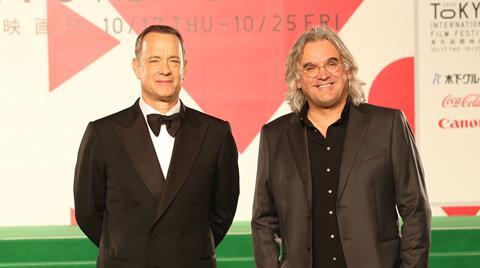 Competition jury head Chen Kaige quoted from Hank's Forrest Gump with "'Life is like a box of chocolates – you never know what you are going to get.' But I promise we will treat every film equally."
In a surprise visit, Japanese prime minister Shinzo Abe joined Hanks and Greengrass on the green carpet and onstage, also quoting Forrest Gump with: "Life is like a box of chocolates. This describes my life as I currently proceed with my economic policies in Japan. I hope the content industry will be at the core of the economic rise because there is great potential for the Japanese film industry."
Referring to the Cannes award-winning Koreeda Hirokazu hit that Stephen Spielberg has picked up for remake, Abe said: "The Japanese film Like Father, Like Son will be distributed in 230 different territories and remade as a Hollywood film. I hope more and more Japanese contents will be transmitted to the rest of the world."
Introducing his film, Hanks said: "The first time I met [the actual] Captain Phillips, he was in his stocking feet, drinking a beer in his pajamas and watching a basketball game and I thought - this is perfect casting."
He added: "I think you have nine days of marvelous films coming your way. Let's start now!"
TIFF runs from Oct 17-25 and will close with local film Kiyosu Conference starring Yakusho Koji, who was also on the green carpet last night.