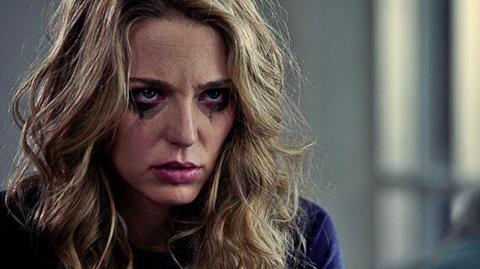 Jason Blum and Universal scored another number one launch as horror film Happy Death Day vaulted to the top of the North American charts on a confirmed $26m, while STX's Jackie Chan action film The Foreigner arrived in third on a decent $13.1m.
Happy Death Day opened in 3,149 theatres and is off to a storming start, demonstrating once again the tried-and-tested formula of Blum's low-cost productions ($4.8m excluding marketing spend) and broad appeal. Blum and Universal's recent collaborations have already delivered global hits Get Out and Split this year. Jessica Roth stars as a sorority sister who is forced to relieve her own murder over and over.
Alcon Entertainment's Blade Runner 2049 slipped 52.7% to second place, adding $15.5m through Warner Bros for $60.9m after two weekends. The $150m sci-fi sequel has drawn admiring reviews, however it will need a mighty international performance in order to eventually break even.
Jackie Chan and Pierce Brosnan action release The Foreigner opened in third place in 2,515 venues. According to STX sources the film's opening weekend audience was 41% female and 59% male and over-indexed with Asian audiences. It cost $35m to produce excluding P&A and is performing solidly, having amassed $88m internationally and $101.8m worldwide.
Chadwick Boseman drama Marshall, in which the upcoming Black Panther star portrays America's first African-American Supreme Court justice Thurgood Marshall, opened at number 11 through Open Road on $3m from 821 venues.
Recent Toronto premiere Professor Marston & The Wonder Women arrived at number 14 through Annapurna Pictures on $736,883 from 1,229 sites.
A.A. Milne story Goodbye Christopher Robin starring Domhnall Gleeson and Margot Robbie opened at number 38 through Fox Searchlight on $57,917 in nine theatres. Ai Weiwei's documentary Human Flow arrived at number 41 via Magnolia Pictures on $22,285 on three.
Andy Serkis' feature directorial debut Breathe starring Andrew Garfield and Claire Foy opened at number 51 through Bleecker Street on $26,254 in four. Finnish Oscar submission Kino Lorber opened Tom Of Finland in 57th place on $13,524 from a single venue.
Box office for the top 12 amounted to $93.3m, down 5.9% on last session and up 4.8% against the comparable 2016 weekend.
This week's wide releases are: Tyler Perry's Boo 2! A Madea Halloween through Lionsgate; Sony's firefighter drama Only The Brave with Josh Brolin, Miles Teller, Jennifer Connelly, and Jeff Bridges; Geostorm starring Gerard Butler through Warner Bros; Same Kind Of Different As Me through Pure Flix; Universal's The Snowman starring Michael Fassbender;
Confirmed top 10 North America October 13-15, 2017
Film (Dist) / Conf wkd gross / Conf total to date
1 (-) Happy Death Day (Universal) Universal Pictures International $26m –
2 (1) Blade Runner 2049 (Warner Bros) Sony Pictures Releasing International $15.5m $60.9m
3 (-) The Foreigner (STX) STX International $13.1m –
4 (3) It (Warner Bros) Warner Bros Pictures International $6.1m $314.9m
5 (2) The Mountain Between Us (Fox) Fox International $5.8m $20.6m
6 (6) American Made (Universal) Universal Pictures International $5.5m $40.2m
7 (5) Kingsman: The Golden Circle (Fox) Fox International $5.4m $89.7m
8 (7) The LEGO Ninjago Movie (Warner Bros) Warner Bros Pictures International $4.3m $51.6m
9 (4) My Little Pony: The Movie (Lionsgate) Lionsgate International $4.1m $15.6m
10 (8) Victoria And Abdul (Focus Features) Universal Pictures International $3m $11.2m