"We're still exploring the themes of memories and empathy."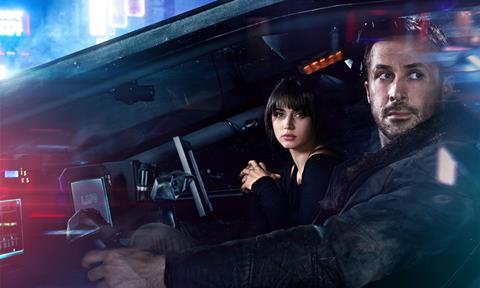 Denis Villeneuve, Ryan Gosling and Harrison Ford spoke about Blade Runner 2049 on Facebook Live as they launched the first full trailer for the science-fiction sequel.
Watch the trailer below or on mobile HERE.
Denis Villeneuve revealed no spoilers from Alcon Entertainment's upcoming Blade Runner 2049, but the director promised the sci-fi would go deeper into familiar terrain that was relevant to contemporary talking points.
"We're still exploring the themes of memories and empathy," Villeneuve said at Monday's launch of the first full trailer hosted by IMAX in Los Angeles and webcast via Facebook Live.
"That's the deeper tissue of where the movie evolves and what it means to be human."
Moments earlier Ryan Gosling, who stars as blade runner Officer K, quipped that there was a sniper on the premises as a warning not to reveal any plot points. The story takes place 30 years after events in the original, which opened in 1982 and is set in 2019.
Harrison Ford reprises his iconic role as blade runner Rick Deckard and spoke of his first day back on set for the sequel, which opens in the US on October 6.
"It was raining. It made me feel welcome," Ford said." Ryan was walking with a naked woman. That made me feel a little sad. She was a holographic projection, which made me happy again. It was really cool. I felt excited, happy to be involved in this project."
Ford said earlier: "It's fascinating that the original film postulated a technology that in many ways we have surpassed. In other ways, we're not quite there.

"This film takes into account the 30 years that have passed and references technologies that actually are in place now, and acknowledges and deals with some of the ethical considerations that technology presents us with.

"There's no such thing as a free lunch and we're really talking about both the benefits of technology and the social consequences of it in a way that I think is really interesting."
New footage
The trailer to Blade Runner 2049 featured images that have been revealed before, although the through-line of Officer K's efforts to reach Deckard was more pronounced.
K is seen walking through desolate terrains punctuated by towering modern edifices and giant ruins. Eventually a wary-looking Deckard emerges inside a building and K tells the older man he has questions.
Elsewhere, Jared Leto brings a shivering, naked humanoid to life, while in another scene Robin Wright, playing some kind of authority figure, talks of the need to preserve order.
Ford described the process of filming opposite Gosling as "unexpectedly deep". He added: "It was the first scene we had together and it was complex and sort of 'out there' and I really enjoyed it and I really enjoyed the way Denis managed the scene and both of us."
"To be a part of that was surreal," Gosling said, adding that he first watched Blade Runner about 10 years after its release and the experience made him question what it was to be human.
"To get to set and realise these sets were a fully functioning world that you could inhabit… the props worked, there was very little imagining that had to be done – you were completely immersed in this universe you had grown up imagining.
"The trick for me was not to be impressed by it on camera. It was supposed to be my everyday world."
Gosling added that Villeneuve told him to imagine Ford was sitting in the corner in every scene and their task was to make the legendary actor happy.
"When he actually arrived it was such a relief because he just rolled up his sleeves and we got to work," Gosling said. "He was such a wonderful partner and so gracious to us."
Ford added: "Ryan brings a real emotional intelligence to these things and it was really a pleasure for me to work with him. I never knew what I was going to get, which is a good thing because your instinct goes towards what you have seen and what you have an expectation of."
Villeneuve, whose credits include Oscar-nominated Arrival, Prisoners, Sicario and Incendies, and is lining up a Dune reboot, said the experience of shooting Blade Runner 2049 was an impressive journey. "Every day has something I will remember vividly, sensorially."
The cast includes Ana de Armas, Barkhad Abdi, Lennie James, and Mackenzie Davis.
Thunderbird Films and Scott Free Productions are producing with Alcon, which owns the property rights. Alcon principals Broderick Johnson and Andrew A. Kosove produce with Bud Yorkin, while Blade Runner director Ridley Scott is among the executive producers.
Blade Runner 2049 will open in the US on October 6 through Warner Bros. Sony handles international territories.
Read more:
'Blade Runner 2049' will be R-rated, confirms Denis Villeneuve