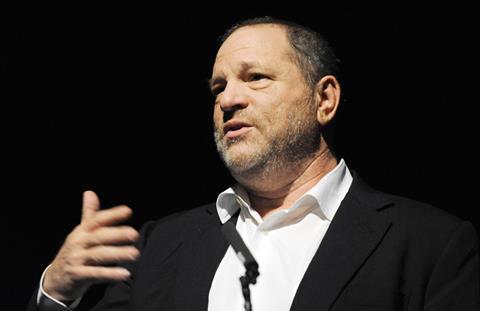 The Weinstein Company (TWC) board fired Harvey Weinstein on Sunday afternoon as the sexual harassment scandal reached crisis level.
The board of representatives issued the following statement: "In light of new information about misconduct by Harvey Weinstein that has emerged in the past few days, the directors of The Weinstein Company - Robert Weinstein, Lance Maerov, Richard Koenigsberg and Tarak Ben Ammar - have determined, and have informed Harvey Weinstein, that his employment with The Weinstein Company is terminated, effective immediately."
According to reports Weinstein flew from New York to Los Angeles and fought hard to stay during a heated meeting with a depleted all-male board after several members quit late last week. When he refused to explore a number of options presented to him, the board felt they had no alternative but to terminate his position.
There have been new complaints to emerge since devastating allegations of sexual harassment surfaced in an article in The New York Times that everybody is talking about in Hollywood.
Writing in The Sunday Times, UK freelance script reader Liza Campbell claimed Weinstein invited her to join him in the bath at a meeting in his room at the Savoy in London in 1995 when he ran Miramax. Representatives for TWC declined to comment to Screen.
This follows an allegation by former local cable news anchor Lauren Sivan in The Huffington Post that Weinstein cornered her in a private area of New York restaurant Cafe Socialista ten years ago and, she claims, masturbated in front of her. The allegation is one of several against Weinstein that have gone public since last Thursday.
The firing follows a chaotic few days for TWC after Lisa Bloom, the attorney whose work for Harvey Weinstein drew the ire of her own mother and renowned lawyer Gloria Allred, quit as the embattled film mogul's advisor.
Bloom's departure came as Weinstein had begun an "indefinite leave of absence" before his position at the company was terminated. Bloom, a renowned women's rights advocate who played a role in the ousting of former Fox News presenter Bill O'Reilly, announced the move on Twitter on Saturday.
"I have resigned as an advisor to Harvey Weinstein," Bloom wrote. "My understanding is that Mr. Weinstein and his board are moving toward an agreement." The nature of that agreement was unclear at time of writing.
When Thursday's article broke, Bloom initially said Weinstein denied many of the accusations as "patently false." At the time she had described her former client as "an old dinosaur learning new ways" and said he had instructed her to review the company's policies and practices towards women in the workplace.
Her work with Weinstein had also enraged celebrities, among them the actress Rose McGowan, who has been particularly vocal in her commentary on Twitter.
On Saturday US president Donald Trump weighed in on the scandal, telling reporters he was "not at all surprised" by the sexual harassment allegations against the film mogul. The dig came after Weinstein had issued a statement to the Times in which he spoke of channelling his anger issues into anti-NRA [National Rifle Association] activities and alluded to a joint retirement party for the organisation's head Wayne LaPierre and the president.
Following a board meeting last Friday, The Weinstein Company co-chairman Bob Weinstein and president and COO David Glasser assumed the reins. The board has instructed an investigation into the allegations of sexual harassment levelled against Weinstein in the Times article. It was unclear at time of writing whether that probe or the emergence of new public complaints triggered the firing on Sunday.
The scandal has become an embarassment to the Democratic Party. Weinstein has donated hundreds of thousands of dollars to the cause and raised millions more through fundraisers, becoming close with former secretary of state and former presidential candidate Hillary Clinton, among others.
Senators including Senate minority leader Charles Schumer said they would give the donations to groups working with victims of sexual abuse. The Republican National Committee has called on the Democrats to return the donations.
Jodi Kantor, one of the two Times reporters who broke the story that has engulfed Hollywood, claimed that Lanny Davis, a member of Weinstein's crisis management team and a former special counsel to US president Bill Clinton, was also departing.