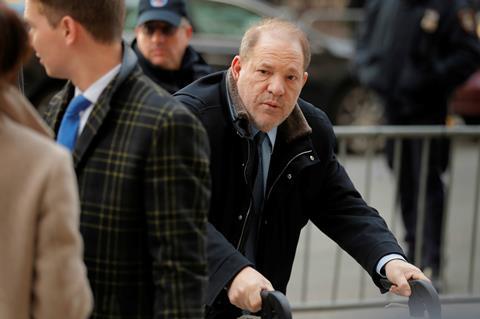 Harvey Weinstein's top defence attorney attempted to dismantle the credibility of the former Hollywood mogul's accusers in closing arguments on Thursday (13).
Donna Rotunno told a Manhattan jury that prosecutors used former aspiring actress Jessica Mann to get at Weinstein – at one point in Mann's testimony earlier in the trial the judge suspended the hearing for the day after she broke down uncontrollably.
Rotunno referenced friendly emails from Mann to Weinstein that she said discredited the notion Weinstein behaved as he accuser claimed. Mann testified that Weinstein raped her at the DoubleTree Hotel in Midtown Manhattan in 2013.
The defence attorney also attacked the testimony of former production assistant Mimi Haleyi, who claimed Weinstein forcibly performed oral sex on her in a hotel in 2006. Rotunno said friendly emails from Haleyi to Weinstein would make any reasonable person believe they had a good relationship.
Rotunno also addressed the testimony of Annabella Sciorra, one of four "prior bad acts" witnesses whose claims were not on the indictment but intended by prosecutors to show a pattern of behavior by Weinstein.
The lawyer argued Sciorra invented her rape allegation to become relevant in Hollywood again.
Prosecutors will deliver closing arguments on Friday and jury deliberations are expected to take place next week.
Weinstein, 67, has pleaded not guilty to raping Mann and to sexually assaulting Haleyi. He is charged with five felony counts and faces life in prison if convicted of predatory sexual assault, the most serious charge against him.
Since 2017, more than 80 women have accused Weinstein of sexual misconduct. He denies any non-consensual sex.