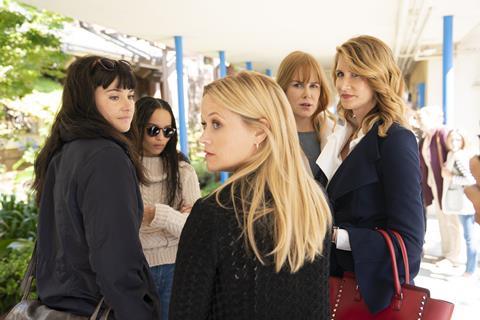 HBO president of programming Casey Bloys has defended the network's position on Big Little Lies 2 and its director Andrea Arnold.
Bloys also revealed that if HBO's prequel series to Game Of Thrones is ordered it will "likely" shoot in Northern Ireland, as did the blockbuster series itself.
Speaking at the Television Critics Association press event in Los Angeles on Wednesday (24), Bloys said there was "a lot of misinformation" about Big Little Lies and Arnold, who directed all seven episodes of the just-concluded second season but, according to reports last week, had creative control taken away in post-production by executive producers David E Kelley and Jean-Marc Vallée (director of the show's first season).
Bloys said that Arnold "did a beautiful job. But as anybody who works in television knows, the director typically does not have final creative control. So the idea that creative control is taken from a director is a false premise."
Arnold, Bloys said, "was never promised that she would have free rein. We were clear, the producers were clear, that while we hired her for her eye and for her talent…we were not looking for someone to come in and completely reinvent the show."
Arnold knew, Bloys added, that Vallée would work on the episodes she had filmed in post-production: "His involvement was very well known to her," Bloys insisted.
On the as yet untitled Game Of Thrones prequel series, Bloys revealed that the pilot has just completed shooting in Northern Ireland. He would not be drawn on other possible spin-off series, though Game author George R. R. Martin recently said in a blog post that two other spin-offs are being written.
If the prequel is ordered by HBO "I would suspect it would be shot there," Bloys told Screen, referring to Northern Ireland, where the blockbuster series has helped rejuvenate the local industry. "We had a good experience [on the original show], so I think that would be likely."
In his TCA presentation, Bloys also said that HBO – set to become the centrepiece of WarnerMedia's HBO Max when the streaming service launches in spring 2020 – is likely to further bump up its output of original programming next year.
After increasing the output by 50% this year, Bloys said, the premium cable network will probably make 160 or 165 hours of original content next year, with documentary series being an area of expansion.