Documentary examines the story behind Claude Lanzmann's seminal Holocaust film.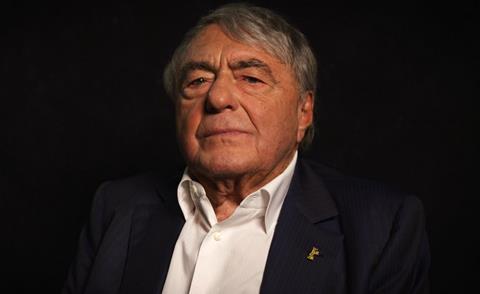 HBO Documentary Films has acquired the US TV rights to Claude Lanzmann: Spectres of the Shoah, a documentary portrait of the French iconoclast and the making of his masterpiece Shoah.
The film will debut on HBO in 2016, the network announced at the Hot Docs Canadian International Documentary Festival in Toronto.
The documentary debuted on Saturday night and screened again on Tuesday (April 28) at Hot Docs under the working title Lanzmann. It will screen again tomorrow (May 1). Additional international festival screenings will follow throughout 2015.
Also announced today, European broadcasters ZDF and ARTE have signed on as co-producers for the film, securing German and French broadcast rights to the film; while DR TV has acquired Danish broadcast rights.
Marking the 30th anniversary of Shoah's 1985 release, as well as the 70th anniversary of the end of the Second World War, the documentary tells the story of the French auteur's more than decade-long battle to create his nine-and-a-half hour long masterpiece, which today ranks among the most important Holocaust works in existence.
The filmmakers secured exclusive access to Lanzmann, who sat at length to discuss the making of the epic, including the secret undercover filming of former Nazis; the long process of convincing traumatized Holocaust survivors to talk on screen and subsequent emotional interviews; and the draining challenge of chronicling one of the greatest atrocities the world has ever known.
In addition to Lanzmann's testimony, the film features never-before-seen material shot by the director and his team in the 1970s. The filmmakers continue to work with the US Holocaust Memorial Museum and Israel's Yad Vashem, who jointly own this material, to restore and digitize it.
The documentary marks the directorial debut of Adam Benzine, the former associate editor of filmmaking magazine Realscreen. In a statement, he said: "Claude Lanzmann is a filmmaking icon and a Jewish hero. His 12-year journey to make what is now considered to be the definitive Holocaust opus was really an against-all-odds story of defiant resilience in the face of tremendous adversity. I am deeply honored that he agreed to participate."
Claude Lanzmann: Spectres of the Shoah is written, produced and directed by Adam Benzine, co-produced by Kimberley Warner, and executive produced by Nick Fraser (Man on Wire). It features an original score composed by Joel Goodman (JFK), and is edited by Tiffany Beaudin. The director of photography is Alex Ordanis.
The US, French, German and Danish deals were brokered by Benzine and Warner directly. Future sales will be handled by Philippa Kowarsky of Tel Aviv-based Cinephil, which has signed on to represent the film.