EXCLUSIVE: The Riot Club duo join Charlotte Rampling in upcoming comedy sold by Goldcrest.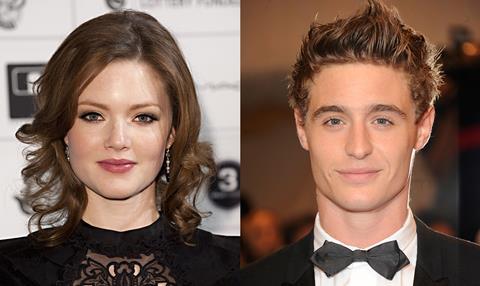 Holliday Grainger (Cinderella) and Max Irons (Woman In Gold) are to join Charlotte Rampling (45 Years) in Jane Austen adaptation Sanditon, which is due to shoot in the UK in June.
The adaptation of Jane Austen's never-before dramatised final novel will be directed by Jim O'Hanlon (A Hundred Streets), director of the 2009 BBC TV adaptation of Austen's Emma.
Script comes from British playwright Simon Reade who produces with Guy de Beaujeu for Fluidity Films (Private Peaceful). Goldcrest Films will finance and handle sales.
In Sanditon, when Charlotte Heywood (Holliday Grainger) is invited by eternal optimist and entrepreneur Tom Parker to spend the summer season at Sanditon she accepts immediately, intrigued to see (not so) polite society at play in the newly fashionable sea bathing resort.
There she meets a host of classic Austen characters from the imperious nouveau-riche Lady Denham (Rampling) to her impoverished ward Clara, and from the lecherous Sir Edward, to the dashing, feckless Sidney Parker (Max Irons) and his hypochondriac sisters.
Austen died in July, 1817 having written the first eleven chapters of the novel. The unfinished manuscript was bequeathed to her niece.
Cinderella and Great Expectations actress Grainger, who also starred in Showtime's Emmy-winning TV drama The Borgias, is about to start shoot alongside Rachel Weisz and Sam Claflin in Fox feature My Cousin Rachel.
Irons, who starred alongside Helen Mirren and Ryan Reynolds in US box office hit Woman In Gold, and with Grainger in Lone Scherfig's The Riot Club, also starred in BBC TV series The White Queen.
Director Jim O'Hanlon said: "Sanditon is that rare and wonderful thing - a genuinely original, never-before-filmed novel by one of the world's favourite novelists. It has everything audiences have come to expect from classic Jane Austen - comedy, romance, and a dazzling cast of characters for them to fall in love with - and much that is fresh and new, not least its setting in an English Seaside resort on the make.
"This is a once in a lifetime opportunity to bring to the big screen a brand-new Jane Austen - Jane Austen-On-Sea, as it were - and to be doing it with actors of the calibre of Holliday, Max and of course Charlotte Rampling as Lady Denham is hugely exciting. I can't wait to get started".
Pascal Degove, managing director of Goldcrest Films, added: "This is a highly contemporary, relevant first telling of a Jane Austen with all the makings of a classic. There really couldn't be a better way to underline this than with the casting of Holliday and Max who will appeal to Austen fans, old and new."