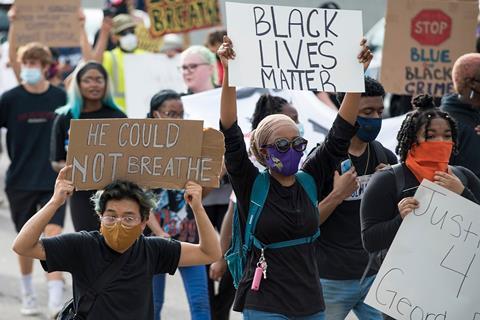 A large swath of Hollywood will take part in the Blackout Tuesday day-long work pause in response to the George Floyd killing as regions across the US were bracing themselves for more trouble following an explosive weekend of protest and clashes.
Agencies WME, ICM Partners, UTA, CAA, Gersh Agency, and APA as well as AGC Studios and others are joining the music industry for Blackout Tuesday, which marks a day of contemplation in light of last week's (May 25) deadly arrest of 46-year-old Floyd by four police officers in Minneapolis.
Bad Robot Productions in association with The Katie McGrath and JJ Abrams Family Foundation has pledged $10m over the next five years to organisations with anti-racist agendas, while Endeavor is hosting a company-wide initiative addressing bigotry on Thursday.
Netflix, Amazon, Sony, Tribeca, the Hollywood guilds, networks and a host of media conglomerates have issued statements in solidarity with black communities.
Floyd died last Monday (May 25) after police officer Derek Chauvin used his knee to pin the detained man to the ground by the neck for nearly nine minutes. Bystanders filmed the entire incident and posted it online, sparking an outpouring of grief and anger, protest and civil disorder across the country.
As protests continued on Monday and Los Angeles entered its third night of curfew alongside similar orders in New York and other regions, a private autopsy funded by Floyd's family and the official Hennepin County medical examiner both ruled Floyd's death was homicide.
The private inquiry said his death resulted from asphyxiation and not just from the neck trauma but from the weight of two other officers on Floyd's back who blocked airflow to his heart and lungs.
Hennepin County attributed the death to heart failure, possibly complicated by heart disease and the presence of fentanyl and methamphetamine in his blood.
Chauvin has been charged with third-degree murder and second-degree manslaughter and all four officers who detained Floyd over a 911 call about a counterfeit bill have been fired.
Distributor-producer A24 mourned the loss of Floyd, as well Amaud Arbery, Breonna Taylor, Tony McDade "and many others" who have died in recent months amid circumstances that have provoked public outrage. The company said, "We have been silent. Silence is not an option", adding that it was developing "a short term and longer term strategy for how to meet the gap between the company we are today and the company we aim to be." Further details on how it plans to accomplish this goal are expected shortly.
Despite many individuals messages of support on social media, CNN anchor Don Lemon has called on Hollywood to do more. Speaking on air at the weekend, the CNN Tonight host urged leaders to go further. "Get on television or do something and help these young people instead of sitting in your mansions and doing nothing," he said. "And have some moral courage and stop worrying about your reputation and your brand."